Los Angeles Clippers rookie forward Blake Griffin will reportedly be named the 2011 NBA Rookie of the Year. Posted by Ben Golliver.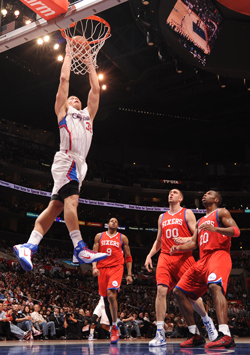 The Los Angeles Clippers sent a press release on Tuesday night informing the media of a "major NBA Award Announcement."
The Los Angeles Times
and
ESPNLA.com both report
that the announcement is exactly what you think it is: Clippers forward Blake Griffin will be named the 2010-2011 NBA Rookie of the Year.
Clippers power forward Blake Griffin followed in the footsteps of current league stars LeBron James, Kevin Durant and Derrick Rose by winning the NBA's rookie of the year award, and became the fifth player in franchise history to do so.
The award will be announced Wednesday, according to a league official familiar with the voting but who was not authorized to speak publicly.
This one was never in doubt. Griffin averaged 22.5 points and 12.1 rebounds per game, was named to the Western Conference All-Star team, and won the NBA Slam Dunk contest by jumping over the hood of a relatively small vehicle. He also put roughly 3,976 people on posters this year.
Griffin was selected with the No. 1 overall pick in the 2009 NBA draft but missed all of the 2009-2010 season with a knee injury.