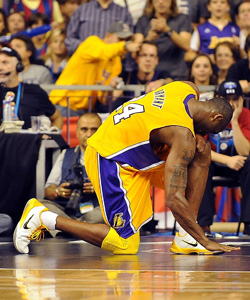 Phil Jackson says Lakers star may not be ready for season opener.
Posted by Matt Moore
So far, the talk about
Kobe Bryant
's knee, still recovering from knee surgery, has been very academic. Sure, he has surgery on it. Yeah,
he's only about 60% on it
right now. But the discussions haven't actually involved games that count, games that matter. But Phil Jackson is aware that the regular season is only two weeks away. And in dealing with that information has lead him to start wondering if the Finals MVP is going to be ready to go. The
LA Times
reports that Jackson is "unsure" of how ready Bryant will be when the season starts. This is in addition to the fact that there's no way Andrew Bynum will be good to go. Bynum
has said it may be December
before he's back.
Bryant is the obvious more crucial component in all this. The Lakers are a stunningly talented team (which makes you wonder why everyone's so upset with all the talent on the
Heat
considering
Lamar Odom
is the Lakers' freaking sixth man), but they're also driven by a very hard iron glove from Bryant offensively. He is the start and end of most Lakers possessions. Without him, the triangle has to evolve into something different, even with
Pau Gasol
as the low corner and a multitude of wings available to take the third wing's spot. This team should be good enough to roll teams without Bryant, and did so last year. But there's still a level of adjustment, and an even greater one when Bryant returns.
All of this is moot because it's October. Bryant can miss the entire first month of the season, or more, and still have time for the Lakers to get back and claim the top spot in the West. It's really just a matter of how much time they'll have to coast at the end of the year. And with all the injuries and Lamar Odom having played for Team USA in FIBA this summer, Jackson may elect to simply let go of the top spot in the West and simply make the playoffs, then assert themselves. Winning every regular season game is the farthest thing from Jackson's mind. Fifty or better and they should be in, and with Pau Gasol,
Ron Artest
, Odom,
Derek Fisher
, new additions
Matt Barnes
and
Steve Blake
, that number's doable in Jackson's sleep.
The only fear in Jackson's mind has to be if eventually Bryant's body which has been stunningly durable over the past two years will give out. And that's not something Jackson even wants to begin to think about, let alone Kobe. Then again, why worry when Bryant's shown he's willing to work harder, fight harder, do whatever is necessary to succeed?