A look at what is at stake for the NBA's Northwest Division if a whole season was lost due to the lockout. Posted by Ben Golliver.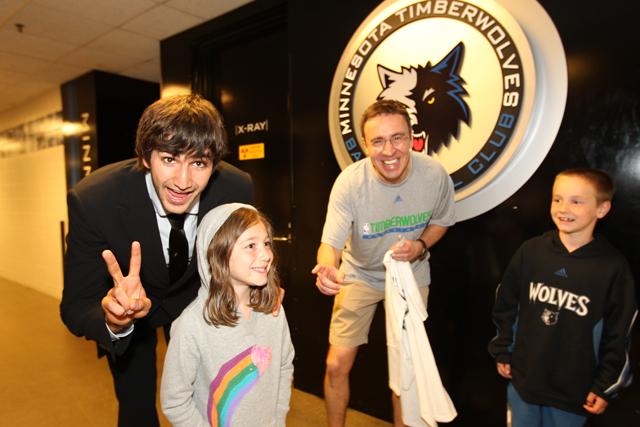 Talk of losing an entire NBA season is a bit ridiculous. But it's a possibility. And with all this hardline talk going on, it seems like neither the players nor the owners are wanting to budge. There's incentive for teams to get a deal done and not just for the money, but because a year without basketball and more importantly, basketball operations, could greatly affect each and every NBA franchise.
Earlier this week, we took a look at the
Southeast Division
, the
Atlantic Division
, the
Central Division
and the
Southwest Division
. Let's continue with the Northwest Division.


MINNESOTA Timberwolves
The NBA's worst team won just 17 games last year, had the league's seventh-worst home attendance and is generally mentioned at the top of the list of examples that "prove" the NBA's economic system is broken. That's because their local television, ticket and memorabilia revenue simply cannot compete with the Los Angeles
Lakers
and Boston
Celtics
of the world. Despite all of that, the Timberwolves might very well have more to lose than any other team in the Northwest Division if the league were to miss an entire season.
Let's start with 2009 lottery pick
Ricky Rubio
, who against all odds took the plunge and decided to finally join up with Minnesota. For multiple seasons, Rubio has represented hope, carrying Timberwolves fans through ugly winters and late-season collapses. The wait was excruciating. The uncertainty about whether he would or wouldn't stay in Europe further into the future made it worse. Now that he's on board, he's been greeted at an airport, introduced to his teammates, sold some jerseys and rallied the collective fan spirit a bit. To lose an entire season would make that interminable wait that much longer. It would also rob Rubio of a valuable development and acclimation year, which would be an absolute disaster. This is a point guard who needs to start on Day 1, entrusted with the full support of his coaching staff and allowed to make mistakes and build chemistry with his teammates while learning on the job. No season means no opportunity to do any of that.
Aside from Rubio, there are financial risks as well. That might be surprising, because the Timberwolves currently are the only team in the NBA that does not have anyone on their books for more than $6.3 million next season, a fairly astonishing accomplishment. Of course, there's a catch: All-Star power forward
Kevin Love
is on his rookie deal. Indeed, Love is heading into the last pure season of his rookie deal before Minnesota either must issue him a qualifying offer or sign him to an extension. Worse yet, it's possible that Love, one of the league's premier rebounders, will command a mini-max extension or close to it. The point here? He's set to make just $4.6 million next season, a bargain for his production. If the season is lost, the Timberwolves miss out completely on that outstanding value and are one year closer to biting the bullet on extending him without having reaped full benefits. That's tough.
Last but not least, a lost season is the perfect excuse for any franchise to delay tough decisions or to talk themselves into trying to make things work. With an imbalanced roster full of mixed and matched pieces, the Timberwolves, despite their accumulated talent, are going to struggle mightly again next season. The pains of those struggles, theoretically, could be enough to finally convince owner Glen Taylor to pull the plug on president David Kahn, a man who hasn't shown the ability to construct a team and outright wasted two second round draft picks on technical mistakes during the 2011 NBA Draft, by trading a hurt player (
Jonny Flynn
) and drafting someone who lied about his age (
Tanguy Ngombo
). A year without games, then, is a year without losses, which means another year for Kahn to preach patience and wiggle out of responsibility for this mess. The sooner Kahn is gone, the sooner this ship turns around. A lost season will make "sooner" feel like never.
OKLAHOMA CITY Thunder
While the Timberwolves need to get headed in the right direction, the Oklahoma City Thunder are already there. With the best designed roster in the league, two young All-Stars, an undisputed Northwest Division title and a Western Conference Finals appearance under their belt already, and a passionate fanbase that is guaranteed to provide 40+ home sellouts next season, the Thunder would happily start the season today. A lost season, then, would be a nightmare.
Name something, anything, and it's at risk for the Thunder. They lose the value of
Russell Westbrook
playing on a rookie deal. They lose the value of
James Harden
on a rookie deal. They lose the value of
Serge Ibaka
on a rookie deal. They lose one year of
Kevin Durant
's Hall of Fame playing career. They lose another season of playoff experience. They lose a very good chance at making a run at an NBA Finals. They lose a season of having their top eight players (Durant, Westbrook, Harden, Ibaka,
Kendrick Perkins
, Thabo Sefalosha,
Nick Collison
,
Eric Maynor
) all locked into affordable contracts. They lose the chemistry and momentum that goes with having an entire nucleus together for multiple years.
What's worse: they have nothing to gain from a work stoppage, other than perhaps the money that would come with increased revenue sharing. Without a single bad or untradeable contract on their books, there is no financial reason OKC would root for a year away from the game. In fact, any change to the Collective Bargaining Agreement that firms up the cap would make it more difficult for the Thunder to keep all this talent in house. That means they wouldn't get the chance to win now and their ability to win later could be compromised.
Usually, young teams that make a deep run through the playoffs can't wait to get back on the court for a second go-around. Multiply that feeling by about 10 and that's the situation facing OKC.
PORTLAND Trail Blazers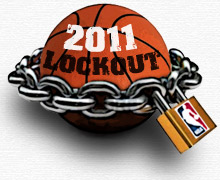 You might think the injury-plagued Trail Blazers would welcome some time off to lick their wounds and assess the damage, but missing an entire NBA season wouldn't necessarily be a good thing for this franchise. Really, it's a muddled picture.
The main benefit is clear: the Blazers have a very difficult cap situation next season, thanks to a mini-max contract for guard
Brandon Roy
, who is apparently no longer capable of reaching his previous All-Star level of play. Saving the $15 million owed to Roy, as well as the $10.5 million owed to aging center
Marcus Camby
, would be a tempting proposition for most small-market owners. Money aside, saving the miles on Roy's knees wouldn't hurt either.
Blazers owner and Microsoft co-founder Paul Allen, however, has dealt with serious health problems in recent years and is clearly in spend-big, win-now mode. He would cut a check tomorrow for five times his team's total salary cap if it meant a shot at the NBA Finals, no questions asked. It's difficult to imagine a financial enticement that would make it worth Allen's while to take a year off.
Aside from Roy, the other big question is center
Greg Oden
. Missing an entire NBA season doesn't play in Oden's favor, as he hasn't taken the court for an NBA game since December 2009. A lost season means his layoff would extend nearly three full years to October 2012. That's a long, long time to be away from basketball. Complicating that further for the Blazers is the fact that Oden is a restricted free agent this summer. The Blazers would retain matching rights on Oden if a season was lost but they would be forced to offer him an extension without being able to see whether he recovers fully to be able to take the court and, more importantly, withstand injury once he's out there. Oden could command a mid-level type of offer on the open market, which would be a major investment for Portland, because the Blazers have already committed to nearly $80 million in salary for next season, with contracts to Roy, forwards
LaMarcus Aldridge
and
Gerald Wallace
and guard
Wesley Matthews
already on the books into the future. Without another center on their roster who is in their long-term plans, though, the Blazers wouldn't have a choice. They'd have to pay up. Given that situation, you want as much information as possible; a lost season would mean no information.
Finally, the Blazers have a big question at the starting point guard position. His name is
Raymond Felton
, and he was acquired in a draft day trade for previous point guard
Andre Miller
. Felton is in a contract year and hasn't played meaningful minutes with any of his current teammates, except for a stint in Charlotte with Wallace. Felton will require a good-sized contract extension next summer as well and the Blazers would surely like to see how he gels with their core, particularly Aldridge, before they commit to him long-term. Without any starting quality options on the roster, they would again find themselves stuck in a corner, forced to do what it takes to retain Felton without a readily available back-up plan.
To boil it down: the Blazers have enough questions without a lost season. Missing a full season would simply create an array of complications and made some tough roster decisions that much more difficult and, potentially, costly.
DENVER Nuggets

Sure, the Denver Nuggets lost franchise forward
Carmelo Anthony
to the New York
Knicks
, but they did an excellent job of stripping their roster down to allow for a quick bounceback rebuilding effort. The Nuggets, somewhat like the Thunder, are in a financial position where their salary cap situation makes it more advantageous for next season to take place unhindered. The Nuggets currently don't have a truly horrible contract on their books, although the mid-level deal for
Al Harrington
and the $15 million or so left to be paid to
Chris Andersen
over the next three years are regrettable. Indeed, the Nuggets have committed to less than $40 million in salary for next season, pending a potentially major financial commitment to big man Nene, who has decided to test the free agency waters, and a decision on guard
J.R. Smith
.
The biggest risks for Denver would be missing out on the value of point guard
Ty Lawson
on his rookie deal and managing whatever concerns might arise about Denver's ability to use its salary cap flexibility to continue work on its rebuilding situation. Most analysts believe teams with salary cap room will be in a position of strength, regardless of how the new CBA shakes out, so perhaps that uncertainty is more of an annoyance than a true concern.
The Nuggets have a lot of questions. How will they spend their money? Who will they bring back? Who will they let go? Are the players under contract currently good enough to compete for a playoff spot in the Western Conference next year or is it better to continue slashing and burning for another season? These are good questions to have because they all point to one fundamental truth: The Nuggets have flexibility thanks to their young, cheap assets. The worst case scenario is that Nuggets fans have to wait a year to watch a promising, athletic upstart group entertain. That's not too bad.
UTAH Jazz

If I'm the Jazz, I'm totally cool with taking a year off. A lost season means that Utah would save $14 million owed to
Al Jefferson
, $10.9 million owed to
Mehmet Okur
, $9.3 million owed to
Devin Harris
and $8.1 million owed to
Paul Millsap
. While Millsap is probably worth his number, the other three certainly aren't worth theirs, especially on a team that lost its foundational identity when it shipped franchise point guard
Deron Williams
to the New Jersey
Nets
at the trade deadline.
Right now, Utah's finances are pretty tight, with $61.5 million already committed for 2011-2012. Look ahead just one year, though, and that number drops to $48.7 million. To make things even nicer, Jefferson, Harris and Millsap will all be expiring that season. The Jazz will be poised to take advantage of their new-found flexibility, keeping the parts that fit (probably only Millsap) and dispensing with the rest.
The biggest risk in a cancelled season for Utah would be the lost development for younger guys like
Derrick Favors
,
Gordon Hayward
and 2011 first-round picks
Enes Kanter
and
Alec Burks
. In Favors, they have a potential franchise forward who needs to start enjoying a loose leash so he can blossom into the player the Jazz expect him to be. Forcing him to take a year off does him no good and, depending on how he responds, could do him some harm. Kanter, meanwhile, looks like an even bigger risk on paper because he was forced to sit out last year at Kentucky, his only year at the college level, due to eligibility issues and because he hasn't yet tasted the NBA game. A lost season would mean two full years away from competitive basketball, not an ideal situation for someone the Jazz selected with the No. 3 overall pick in this year's draft. As for Hayward and Burks, they are lesser concerns. Both have shown promise and clearly have room for improvement. Losing a year wouldn't be critical, but it would be better for them individually if it could be prevented.
On balance, the financial rewards seem to outweigh the development risks for the Jazz.
Salary numbers courtesy of StoryTeller's Contracts
.