The Bulls had one more chance at making a comeback. But the Miami Heat snuffed it out on the defensive end with talent, but more importantly, with supreme effort. The Heat wanted it more, and it showed. Posted by Matt Moore
The chance was still hanging there, by a thread. The Bulls were down six with 25 seconds to go. A quick score, force a turnover which the Bulls excel at, get another one at this is a game. There's a chance. You just have to get a bucket.
Derrick Rose
driving, which is what you want. Amazing comebacks happen, and Chicago could have made it happen. They just needed a score.
Desire is such a dangerous term. These are professional athletes fighting for a chance at a championship. They're close. They can taste it. Want-to is not lacking in this series. But in a series as grueling in this, with constant brutal defense on both sides, and how physical it is, there are moments that are decided by giving it an all-out effort. It wasn't brilliant highlight plays, big alley-oops, or flash and dance that won Game 4 for the Heat. It was desire. Here's how they snuffed out the Bulls.
After a
LeBron James
pull-up jumper (on which James may have very well walked), Rose speed down the court to try and get a quick two to put the pressure back on Miami on the inbounds.
Dwyane Wade
is on the far side at the start of the play.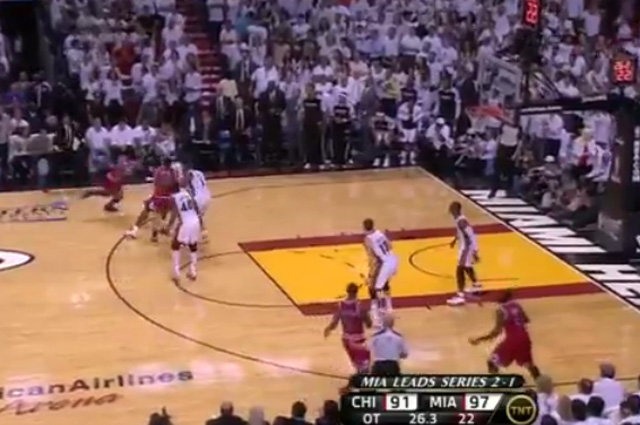 As Rose attacks, Wade times his jump in an interesting way. He jump-stops, plants, and explodes straight up, after Rose has already left his feet and is almost at the apex of his jump before releasing the ball.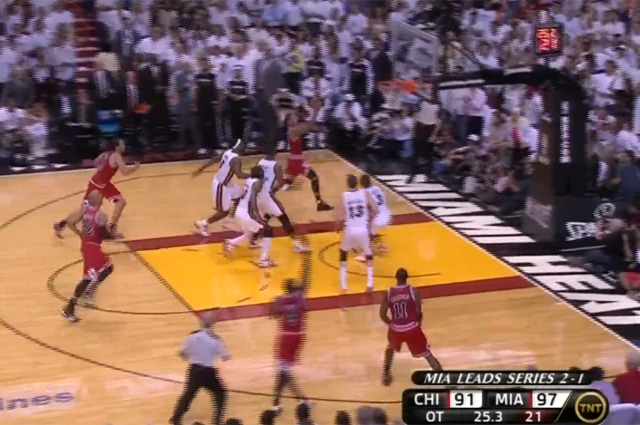 Wade gets an absolutely absurd amount of elevation for a player who may be banged up, and blocks the ball out towards the wing, but not out of bounds.
Joakim Noah
and LeBron James both go for the rebound.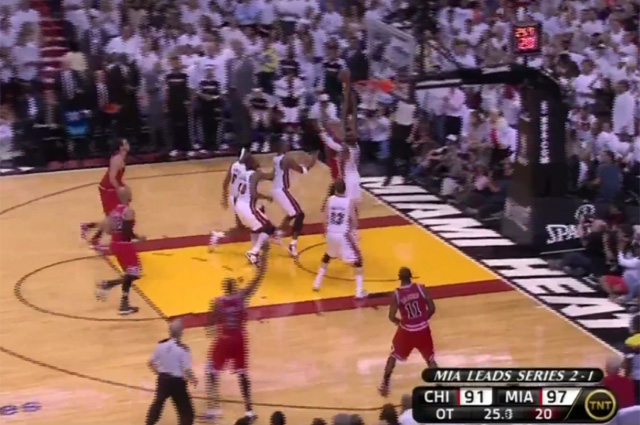 Noah has nearly a four-inch advantage on James, but James manages to explode and get to the ball at the same time, knocking it loose towards the sideline. Noah secures this rebound, he's got two shooters on the far side wide-open. (Broken plays consistently made for huge plays for the Bulls in Game 4.)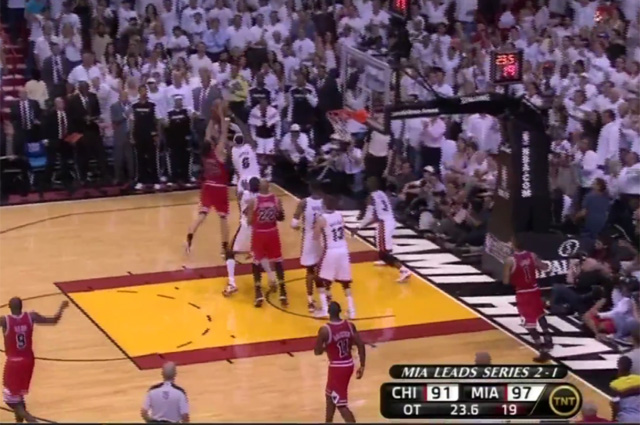 The ball is loose, the game is on the line, and LeBron James is the first one to the floor. James reaches out to tap the ball away from Noah on one leg diving.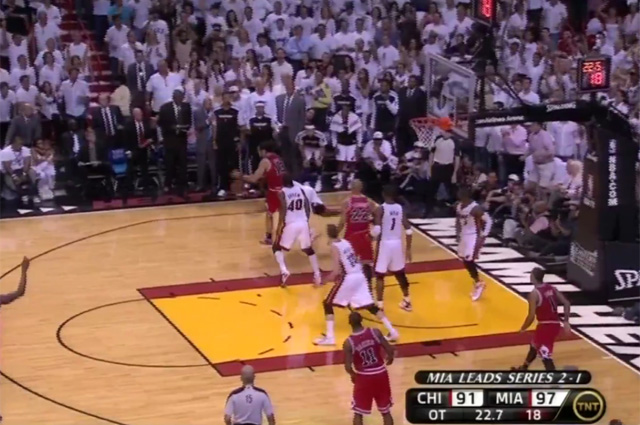 One dive is good effort. James taps it once on the dive, then gives full-out extension to keep the ball from going out of bounds and keep it out of his hands. Noah starts to dive for the ball as well. But
Udonis Haslem
is in position to dive as well and he goes for the ball at the same time.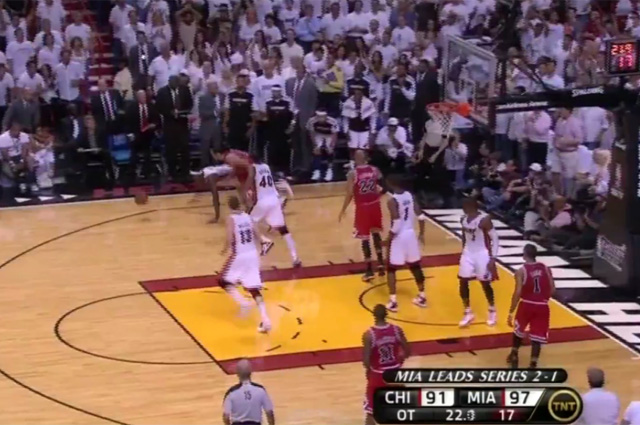 Check out how close this was to going out of bounds on James' steal.
This may have been the most effort LeBron James has ever made on a basketball floor. For a player who consistently is questioned for his intensity and effort, there can be no confusion. James wanted this more than any other player on the floor and every bit of his unbelievable athleticism was put into securing this ball as he taps it towards the middle of the floor.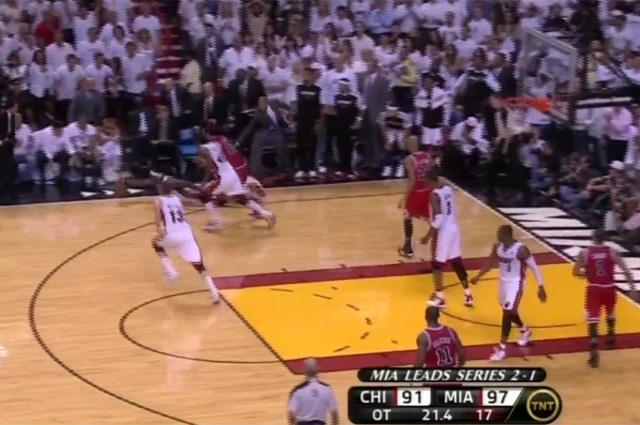 Joakim Noah gave a tremendous effort in Game 4 at both ends. He really hustled to work the glass, try and score, defend, and even run the break. But here not one, but two Heat players are quicker to dive for the ball than him and both beat him to the punch. Haslem dives on the loose ball like a fumble, and turns his back to Noah to try and create a gap between Noah and the ball with his body.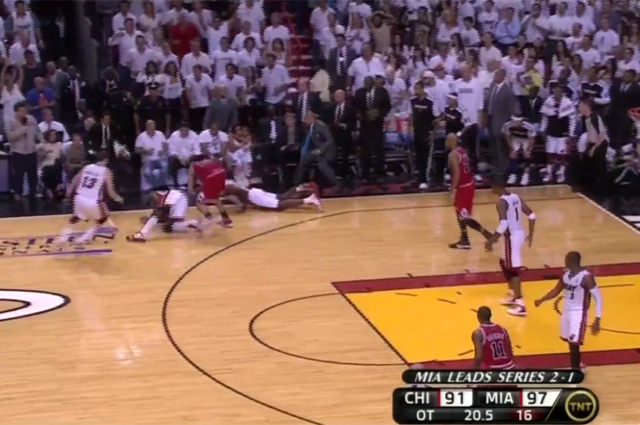 As Noah dives over him, Haslem slips the ball to
Mike Miller
, who eventually gets it to Wade who is fouled.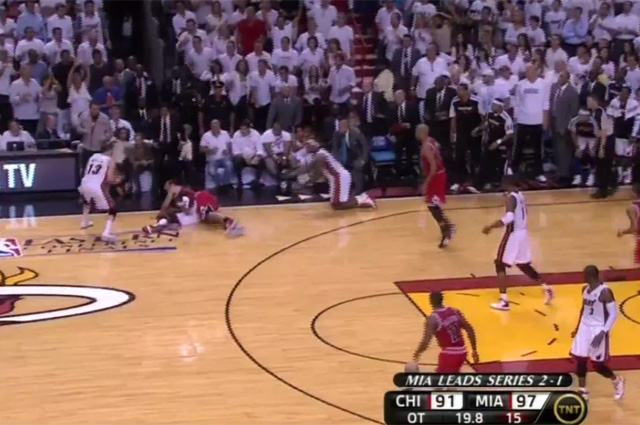 Another Bulls turnover, their last shot, and hope is snuffed out by the Heat. The Bulls were supposed to win this series with superior team play and greater effort over an entitled Heat team. But what makes the Heat so dangerous at this moment is not the talent. It's that talent brought to its fullest potential by the kind of effort seen on this play. No alley-oops. No smoke and mirrors. Just effort.
And a win.