Posted by Ben Golliver.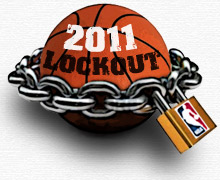 Fool me once, shame on you. Fool me twice, shame on me.
Two weeks ago, Federal mediator George Cohen agreed to oversee more than 24 hours of negotiations between the NBA and the National Basketball Players Association in hopes of ending the ongoing NBA lockout. He was not successful, throwing up his hands and bailing after talks broke down. "No useful purpose would be served by requesting the parties to continue the mediation process at this time," Cohen
said in a prepared statement
upon his depature.
Apparently, Cohen still sees no useful purpose in his presence.
Reports
broke earlier this week
that Cohen might re-enter the NBA's labor quagmire, but multiple reports on Tuesday indicate that will not happen.
The New York Times reported on Tuesday
that it "looks like the federal mediator will not be rejoining NBA labor talks. Nor are any (non-mediated) talks scheduled."
SI.com reported
that Cohen's decision came after he conferred with both sides: "Source says federal mediator George Cohen spoke with both NBA and NBPA officials about another joint session but it will not be happening. No new meetings scheduled."
How to read this? The glass if half full approach would argue that a mediator is unnecessary because compromises have been forged on so many of the system issues and that the two sides, after a pretty active negotiating period, have a clear understanding of each other's positions. The glass is half empty approach would argue that a mediator who listened to the two sides state their respective cases for their stances on the revenue split might reasonably conclude that he would be wasting his time by showing up unless one, if not both, sides indicates to him they are willing to make a substantial move.
In that vein, Ken Berger of CBSSports.com wrote on Tuesday that the lockout won't ever be resolved by a mediator. Rather,
an agreement will only come from the two central figures
: NBA commissioner David Stern and NBPA executive director Billy Hunter.