The Los Angeles Lakers defeated the New Orleans Hornets on Tuesday night to take a 3-2 series lead. Posted by Ben Golliver.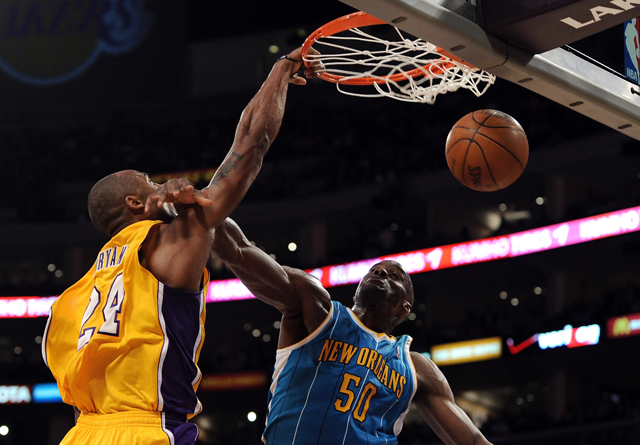 The Los Angeles Lakers have come and gone multiple times already this series, but they were back again on Tuesday night, polishing off the New Orleans Hornets, 106-90, to take a 3-2 series lead.
The Game 5 headlines will go to
Kobe Bryant
's dunks, as well they should. On
two separate occasions
, Bryant displayed the aggression, athleticism, agility and opportunism that turned him into a Jordanesque global icon. First, he banged hard on Hornets center
Emeka Okafor
; then, he cruised past Hornets forward
Carl Landry
for a crafty lefty flush.
Dunks aside, this was L.A.'s most impressive performance of the series, because they took a very solid punch from the Hornets and didn't flinch. The Hornets came out firing and didn't look back. They got big nights from all the guys they've needed to get points from;
Trevor Ariza
(22 points) and
Marco Belinelli
(21 points) in particular. More important than the output was the efficiency: New Orleans hit nearly half of their three-point tries and shot 49.3% from the field. Aside from some shaky foul shooting, the Hornets were about as good as they could have hoped to be on a night when
Chris Paul
(20 points and 12 assists) was merely excellent rather than transcendent.
The Lakers clearly rose to the challenge, inviting the back-and-forth, up-and-down exchanges. All five Lakers starters scored in double figures, as did
Lamar Odom
... and those numbers were representative. Bryant got a bit of extra rest for his sprained left ankle in the first half, and it was a team effort to fill in the gaps. The ball was moving, the big men were finally pounding the rim regularly, and
Ron Artest
and
Derek Fisher
were doing enough to stretch the floor. This was the Lakers starting unit -- on both ends -- that strikes fear in people's hearts. They dominated the rebounds 42-25 -- as they should -- and won the battle for second chance points by an astonishing 22-2.
Perhaps the biggest win for L.A., though, was Bryant's playing time. Given the Lakers' double-digit lead late, and Jackson's early rotation tweak, Bryant played just 28 minutes. If his ankle was an issue, and it certainly didn't seem like it when he was looking down on Okafor, Bryant leaves Game 5 not only with the highlight reel dunks, but also with a bit of extra rest that's precious this time of year.
The Lakers are playing on their own timeline, clearly indifferent to outside expectations or pressure. They've flipped switches on and off at will over the last week. Will they show up to Game 6 on Thursday to lay the hammer down? Does Paul have one final
Magic
act up his sleeve?
Those remain open, good questions. But L.A.'s Game 5 performance served as a not-so-gentle reminder that it will take a minor miracle for the Hornets to send them to an early offseason.