Minnesota Timberwolves forward Derrick Williams is the odds-on favorite to win 2011-2012 Rookie of the Year. Posted by Ben Golliver.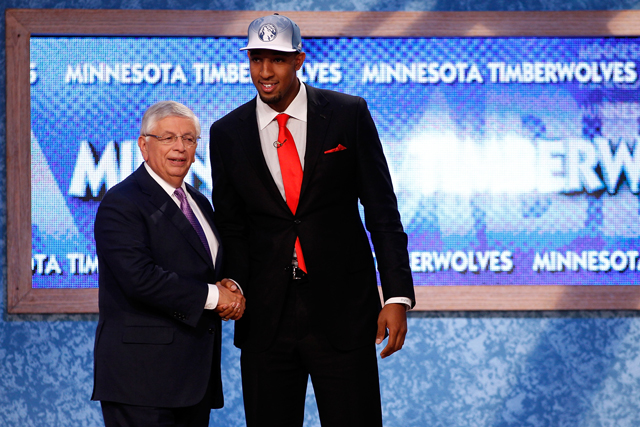 Derrick Williams might have been the No. 2 selection in the 2011 NBA Draft, but he's sitting in the pole positon to win the 2012 NBA Rookie of the Year award.

Bodog.com
has released its early odds for which member of the Draft Class of 2011 will take home the Rookie of the Year award. Williams, a dynamic combo forward out of Arizona, leapfrogged one-and-done Duke point guard
Kyrie Irving
, drafted by Cleveland
Cavaliers
, to claim the No. 1 spot. The No. 10 selection, BYU guard
Jimmer Fredette
, selected by the Sacramento
Kings
, also finished ahead of Irving.
Here's a look at the top 10. Strictly for entertainment purposes only.
Why does Irving slide? Two reasons. To win Rookie of the Year, you must be as NBA-ready as possible and have the opportunity to play boatloads of minutes so that you can accumulate stats.
In Irving's case, he missed a good chunk of his rookie season at Duke, raising questions about how ready he is to be an impact player in the NBA from Day One. Second, the Cavaliers have a muddled point guard position with
Baron Davis
,
Ramon Sessions
and Boobie Gibson hanging around. That will likely get sorted out before next season rolls around, but it will be difficult to trade Davis, who is sure to get some serious burn.
Williams, on the other hand, is arguably the best physical specimen in this year's class. The Timberwolves have nothing to lose and, while
Michael Beasley
is on the roster and has a similar game, Minnesota has every incentive to turn Williams loose. With Rubio in the fold, look for the Timberwolves to continue to play an up-tempo game, with Williams given the green light to shoot and attack as often as he likes. One possible area of concern: Williams and Rubio, by virtue of playing on the same team, could cancel each other out.
Fredette represents the dumb money on this list. With no limit on his shot attempts in college, he compiled absurd scoring numbers. While he enters Sacramento figuring to get plenty of minutes,
Tyreke Evans
will command a very large chunk of the team's possessions, as will emerging big man
DeMarcus Cousins
. If Fredette doesn't defer, he will be marginalized. Ownership might be infatuated with him, but winning over his teammates is far more important.
Kanter appears to be more NBA-ready than most, but he enters a very crowded frontcourt in Utah. Surely he will carve out a solid role. But will it be enough to put up real numbers?
One solid dark-horse candidate: Kemba Walker. While he might not start from Day One because of
D.J. Augustin
, Walker will find plenty of available minutes in Charlotte's torn-down backcourt. The Bobcats are entering Year One of a major rebuild and thus will have Walker's development as a top -- perhaps
the
top -- priority. He enters the NBA after three years in college, and he proved that he was a star on that level.
Ultimately, I would expect this to boil down to a three-man race between Williams, Irving and Walker. Williams is a worthy early favorite.