Posted by
Ben Golliver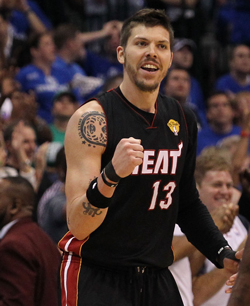 He's not
Dwyane Wade
, but every healthy body counts in
Wade's indefinite absence
due to an ankle injury.
Heat
forward
Mike Miller
made his season debut against the San Antonio
Spurs
on Tuesday night after sitting out the Heat's first 12 games following hernia surgery.
Miller finished with 18 points, 4 rebounds and 1 assist on 6-for-6 shooting (all 3-pointers) in 15 minutes off of Miami's bench.
The Heat forward returned slightly ahead of schedule.
On December 1
, word broke that Miller could miss two months after the surgery.
Local10.com reported
that Miller "was the first player on the court [Tuesday] afternoon over 3 hours before tip-off."
Miller signed with the Heat prior to the 2010-2011 season, but struggled with injuries last year, averaging just 5.6 points and 4.5 rebounds per game in 41 appearances. A solid all-around forward when healthy, Miller is an intelligent, hard-working, floor-spacing and ball-moving threat.
During the lockout,
it was rumored
that the Heat might use the amnesty clause on his contract, which runs through 2014-2015, but Miami elected to bring him back for a second season.
Miller, 31, boasts career averages of 13.2 points, 5.1 rebounds and 3.1 assists per game in 733 games.