The Heat are rolling, the Thunder are struggling, Brandon Jennings goes triple-double, Jason Kidd hits from way downtown, Rajon Rondo dresses up like Tiger Woods for Halloween, and a bunch more. Posted by Ben Golliver.
Each game is made up of elements which help formulate the outcome. Monday through Friday, we'll bring you the elements from the night before's games in our own specialized version of the game recaps. It's not everything that happened, but it's an insight into what lead to the results you'll see in the box scores. This is the Game Changer.
THE BIG ONE: MIAMI KEEPS ROLLING
Another day, another runaway win
for the Miami Heat, who clobbered the New Jersey
Nets
on Halloween, 101-78. The result wasn't particularly surprising, but it was a nice chance to see how the Heat handled one of the league's best big men, New Jersey's
Brook Lopez
. Entering the season, many felt Miami's biggest vulnerability was at the center position. The Heat uses a rotating cast of characters -- including centers
Joel Anthony
, Zydrunas Ilgauskuas,
Jamaal Magloire
and power forwards
Chris Bosh
and
Udonis Haslem
-- to handle opposing big men. While there is both size and talent in that group, none of the players individually stands as an ideal match-up for guys like Lopez,
Dwight Howard
and
Andrew Bynum
. On Sunday, Lopez had a nice game. He finished with 20 points, five rebounds and an assist on 8-17 shooting in 28 minutes. He wasn't dominant, but he was clearly New Jersey's go-to player and he hit from a bunch of places and in a variety of ways. Unfortunately for Lopez, his teammates combined to shoot 3-14 from distance and 22-67 from the field. So while he shot 47%, his teammates shot 33%. And that was basically the ball game. The Heat showed Sunday that one-tricky pony offenses are simply no match for its balanced attack. Without New Jersey's shooters -- multiple shooters -- hitting from the outside, Miami's perimeter defenders were free to harass Lopez to their heart's desire. Coach Erik Spoelstra used Anthony, Ilgauskas, and Bosh on Lopez at different points over the course of the game, and each received help from teammates collapsing into the paint. Miami's active defense combined for 10 steals and they paid careful attention to boxing out Lopez on the offensive boards, limiting his opportunities for second-chance points. While Lopez is very good already, he is not an elite force capable of swaying a game single-handedly. On Sunday, he was just a puzzle -- a relatively simple one at that -- for the Heat to solve. With six Heat players scoring in double figures and a team shooting percentage above 53%, Lopez needed a lot more help than he received. Sunday felt like a lesson for the rest of the NBA teams. Bring a balanced offensive attack -- some credible outside shooting to complement a solid interior game -- or risk watching
LeBron James
,
Dwyane Wade
and Chris Bosh yuck it up on the bench during the fourth quarter, your fate already sealed.
GO-GO-GADGET LINES OF THE WEEKEND:
Brandon Jennings:
23 points, 10 rebounds, 10 assists, 6-8 shooting.
Young Money cashed his first triple-double in
Milwaukee's Saturday win
over the Charlotte
Bobcats
. Honorable Mention goes to...
John Wall:
28 points, 5 rebounds, 9 assists 9-17 shooting. The No. 1 overall pick in the 2010 NBA Draft showed he's going to be a serious problem for NBA defenses, blasting off in
Washington's loss to Atlanta on Saturday
.
Paul Millsap
: 30 points, 16 rebounds, 6 assists, 1 steal, 12-19 shooting. With
this stat line
in Utah's win over Oklahoma City on Sunday (their first W of the season), did Millsap just officially stick a fork in the
Carlos Boozer
Era?
DON'T MISS:
Ken Berger of CBSSports.com reports that the New York Knicks are cooperating with a league investigation into allegations of illegal pre-draft workouts that stretched over multiple seasons. He also writes that New York needs to surround power forward Amar'e Stoudemire with some better talent.
THUNDER STARTING COLD:
By Royce Young Offensively on paper, the Oklahoma City Thunder should have it good. They have the league's reigning scoring champ in
Kevin Durant
. They have rising scorer and potential star
Russell Westbrook
. they have quality role players with scoring ability in
Jeff Green
and
James Harden
. And yet, the Thunder offense has sputtered in the first three games. Yes, the team is 2-1 after a Sunday night loss to the Utah
Jazz
. But on the season, OKC is shooting 39.9 percent from the field and 20.8 percent from 3-point range. So really, it's sort of amazing the team has two wins under its belt. What's kept the Thunder alive is the free throw line. OKC is taking an average of 41.6 free throws a game and is making 84 percent of those attempts. Without all those freebies, the Thunder could very well be sitting at 0-3. Against the Jazz Sunday, it's the first game the Thunder didn't make more free throws than baskets. (In their first two games, the Thunder took 47 and 44 free throws, respectively.) OKC made 32 shots total and 30 free throws (out of 34). Still a large number from the stripe, but obviously not enough in a game the Thunder lost by 21. Not to dismiss the Thunder's two victories by simply saying they were gifts from the charity stripe, but at this point, the Thunder offense isn't really getting it done. For instance, against the Utah,
Oklahoma City went 23-35 inside 10 feet, but 9-45 outside of that
. In fact, Durant made five of those longer 2-pointers (four 3s) and the rest of the team just four. The Thunder are settling for jumpers, the ball movement is poor and the typically deadly transition offense just isn't there right now. The 3-point shot just isn't there and outside of Durant who is 6-13 on the season from deep, OKC is just 5-40 from 3 as a team. That's 12.5 percent. That's fairly terrible. So is there a problem with the Thunder offense? No, not really. It's just kind of a matter of progress. Scott Brooks runs his training camp and preseason based almost entirely around defense and has even said publicly that he's not too concerned with OKC's offense. Any team looks better offensively when its making shots and right now, OKC's not making shots. Durant is shooting just 38.8 percent from the field which is obviously not something that will keep up. The Thunder can thank the free throw line for their two wins and curse poor shooting and some defensive breakdowns for Sunday night's loss. The offense is sputtering right now, but it's a result of settling for jumpers and the fact that some of those jumpers just aren't going down.
WHIMSY:
The Boston
Celtics
clearly had a good time on Halloween. For a full look at all the Halloween costumes around the NBA,
click here
.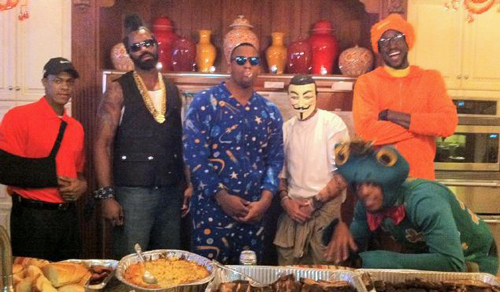 VIDEO CLIP MANIA:

Mavericks point guard Jason Kidd shows that, even in his decaying old age, he still has some tricks up his sleeve. Kidd sinks a three-quarter court shot before halftime of Dallas's game against the Los Angeles Clippers on Sunday. Video courtesy of outsidethenba on YouTube.
ONE FINAL THOUGHT:
Rest in peace
, Maurice Lucas.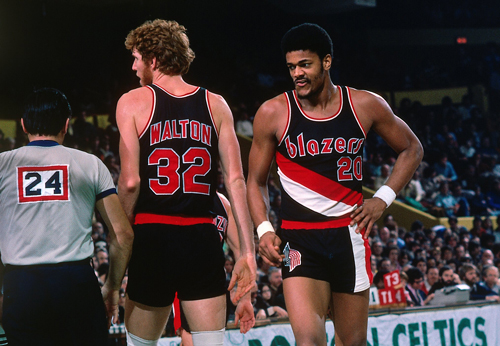 Follow F&R on Twitter at @CBSSportsNBA and check out our RSS feed . This has been your daily edition of the Game Changer.