Posted by Royce Young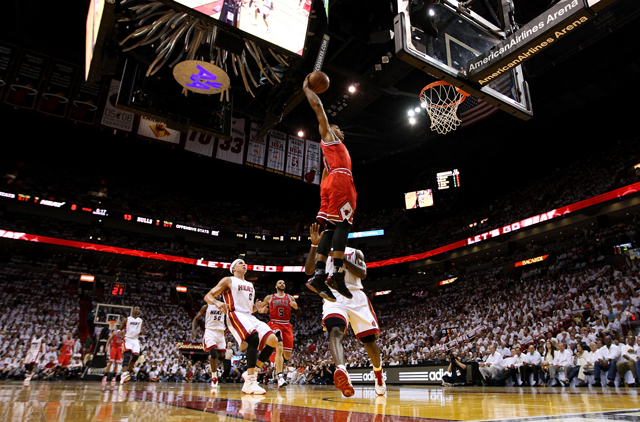 We're less than a week away from the start of the 2011-2012 NBA season. After an interminable lockout and a rushed free agency period, here's a first look division-by-division preview at how the league is shaping up. We continue with the Central Division.
2011 Standings:
Chicago
Bulls
, 62-20, lost Eastern Conference Finals to Miami
Heat
Indiana
Pacers
, 37-45, lost in first round of Eastern Conference Playoffs to Chicago Bulls
Milwaukee
Bucks
, 35-47, NBA Draft lottery
Detroit
Pistons
, 30-52, NBA Draft lottery
Cleveland
Cavaliers
, 20-62, NBA Draft lottery
Best team: Chicago Bulls
The Central really is left to the Bulls. It's their division for the next number of years and it's really hard to see anyone challenging that strongly. The Pacers are better than the 37-win team they were a season ago, but
David West
isn't going to make
that
much of a difference.
It's really more of a question of how much better the Bulls are than everyone else. Meaning, can they have this division locked up by the end of March? February even? And after that happens, it's about playoff seeding and home court advantage. This Bulls team has big goals in mind. They fell short in the Eastern Finals, but they're a year older and
Derrick Rose
has now tasted the sting of failure. This team will be driven and hungry to avenge last season's shortcomings, but it's just a matter of if they can beat the Heat.

Worst team: Cleveland Cavaliers
The Cavs will be the Central's worst squad again, but not The Worst, like they were last season. They aren't going to set any record losing streaks. They aren't going to flirt with the worst record in basketball history. They probably won't even flirt with the worst record in the Eastern Conference. But this is a group in a total rebuild. The rubble is still smoldering from "The Decision" and the franchise hasn't completely recovered. There are questions: Is
Kyrie Irving
a franchise player; is
Tristan Thompson
worth his draft slot; is
Anderson Varejao
's hair self-aware -- these are the things the Cavs will have to start answering before they begin the climb out of the hole and back into the postseason.
Biggest surprise: Detroit Pistons


I want to just say that the Pistons aren't a playoff team and move on. But here's the thing: This is the Eastern Conference. The conference where teams five games under .500 make the playoffs. The conference where if you win 30 games in this shortened season, it might be enough. The Pacers used this formula to get a postseason series with the Bulls and it feels like the Pistons could be next in line to make a small push. It's not a terrible core in Detroit:
Rodney Stuckey
,
Ben Gordon
,
Greg Monroe
,
Austin Daye
and
Tayshaun Prince
. Is that a good team? No, not really. But if 30 wins could be enough for the playoffs in the Eastern Conference, the Pistons might have just enough to claw their way in.
Three Best Players: Derrick Rose, Danny Granger, Joakim Noah
Do I need to explain why Derrick Rose is in this list? No, no I don't. But after him, there's really a lack of talent in the Central. Danny Granger is a good player and a former All-Star, but it feels a bit funny to have him listed as one of the three best players in a division.
It feels
really
funny to have Noah listed as one. But honestly, who else would you put there?
Andrew Bogut
, a guy still playing with one arm?
Carlos Boozer
?
Brandon Jennings
? Kyrie Irving? There's just not a lot of household names in the Central. Rose is a star among stars, but after him, pickings get slim. Noah is a supreme defender, excellent rebounder and makes a major difference on both sides of the floor because of his energy. When a guy impacts games as much as him, he has to be recognized for being a great player. It's not pretty like a Rose up-and-under or a Granger pull-up jumper, but Noah gets the job done and is an anchor for the league's best defense.
Biggest Question: Will Richard Hamilton really make that much of a difference for Chicago?
The Bulls were hunting a shooting guard. They wanted
Jamal Crawford
, didn't get him. They wanted J.R. Smith, can't get him. They wanted
Arron Afflalo
, couldn't afford him. They settled on Richard Hamilton, who was bought out by the Pistons and you know what, they might have gotten a steal in free agency.
Hamilton fills their need of providing a player that can score on his own, take pressure off Rose and add an extra much-needed dimension to the Chicago offense.
Luol Deng
is a nice third scorer, but he can't carry the weight of being the No. 2 option. Same goes for Carlos Boozer. Last season's playoff success for Chicago depended on two things: 1) Can Rose take over the game and 2) if he can't, can
Kyle Korver
or someone else make every 3-pointer they shoot? After that it was just about the Bulls trying to survive by dominating the glass or holding a team to 45 points or something. Hamilton will help alleviate some of that pressure. But it's just a question of if it's enough.
2012 Projected Standings:
1. Chicago Bulls
2. Indiana Pacers
3. Milwaukee Bucks
4. Detroit Pistons
5. Cleveland Cavaliers