Posted by Royce Young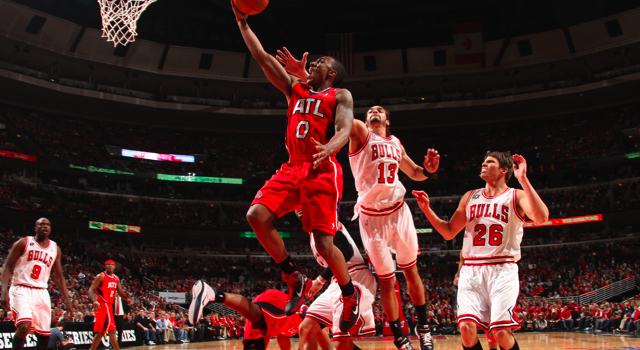 At some point during the fourth quarter, I think the
Hawks
looked up at the scoreboard in the United Center and realized what we were all thinking.
Hey, at least we got a split.
Because Wednesday night's Game 2 was a complete reversal of good shooting fortune for the Hawks. Unless you're a
Bulls
fan, that was not a fun 48 minutes of basketball. Both teams shot under 40 percent, with the Hawks clocking in at a paltry 33.8 from the field. The Atlanta bench, which is typically a major weapon, went a combined 3-11 for 13 points (11 coming from
Jamal Crawford
).
The Bulls got back to their style of basketball, grinding out a win behind excellent perimeter defense, stellar rebounding and just enough from
Derrick Rose
and his rag-tag bunch of scorers. Not that Chicago looked dominant by any means, because there's still certainly some vulnerability there, but it was a more routine Bulls win. It's exactly what the doctor ordered for Game 2 to even the series.
But the Hawks can walk out of the United Center tonight thinking one thing: mission accomplished. Taking one game is a huge coup, and because they won, the Hawks actually have a shot. Like really, they have a chance in this series. I'm not kidding. This series, much like the Memphis-OKC one, has a real look of seven games written all over it.
The question is how to replicate Game 1 and forget Game 2. The Bulls were obviously much better, and suffocated the Atlanta offense while killing on the glass (58-39 edge). Rose was average (10-27, 24 points, eight turnovers),
Carlos Boozer
was a non-factor once again and the entire team shot the ball horribly. And yet the Bulls won by 13. It's exactly the way Tom Thibodeau draws it up.
Joe Johnson
returned to the Joe Johnson we are all familiar with in postseason play (16 points, 7-15 shooting) He forced things, tried to take over in awkward moments and wasn't able to free himself from the terrific on-ball defense of
Luol Deng
. But because of Johnson's struggles and
Al Horford
's rough game (3-12, six points), the Hawks watched as unproven second-year point guard
Jeff Teague
stepped up in a big way.
Teague's effort in the first two games of this series is probably the second best thing the Hawks are taking back with them to Atlanta (a win being the first). Teague went for 21 on 7-14 shooting Wednesday and played 40 minutes against Chicago's pressure defense without a turnover. In these two games filling in for
Kirk Hinrich
, Teague has just one turnover. In Game 2, he outplayed the guy that was just handed the MVP trophy by David Stern before the game.
That, along with the snatching of homecourt in Game 1, means the Hawks have a chance. I know, I have to keep saying it to almost convince myself. But with the way that Indiana series went for Chicago, and then the stinker in the opening game against the Hawks, it just
feels
like the Bulls aren't themselves right now. It feels like they're vulnerable. They're better than they're playing, but it doesn't matter right now. The Hawks have the upper-hand in this series.
Atlanta closed in a few different times on Chicago in the fourth quarter but never approached getting over the hump and taking the lead. While a 2-0 lead would basically be more shocking than the contract Joe Johnson got in the offseason, one win in of itself is big.
It's easy to lose sight of things like that, especially when a team plays as unimaginative as the Hawks did Wednesday. But any road team's goal in the opening two games is to take one and therefore, homecourt. The Hawks accomplished that. And may have found a pretty good point guard in the meantime.