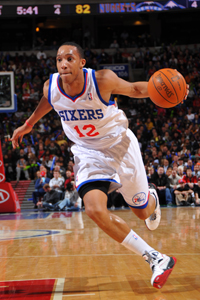 Evan Turner struggled off the bench in his first start this week.
(Getty Images)
By Matt Moore
Update:
Shock of all shocks, the Sixers and Turner
deny any such problem to WIP Sports Radio
. It seemed weird given that Turner's honestly played pretty well this season, but in either case, we've got the Sixers official take on the situation.
-----------------------
I know that headline is pretty much the vaguest thing you're ever going to read, but that's really the best way to describe this from CBS Philly:
Stan Hochman, long-time writer for the Philadelphia Daily News, says that there's a reason for Turner's troubles. "There's an explanation for Turner's inconsistent play. One of these days, the team, with Turner's permission, will reveal it. And then the criticism will back off," he said during an interview with 94WIP's Angelo Cataldi and The Morning Team on Wednesday.

Hochman indicated that the information was given to him with the knowledge that he would not reveal exactly what the problem is. He said that at some point this season, he believes it will be made public.
via
Evan Turner
's Mystery Problem « CBS Philly.
Turner shot 1-12 in his first starting spot this week, despite having played really well off the bench. Now it could have just been one of those games. It could have been a shock to the system for him to start. Turner has shown without a doubt he's going to be a quality player in the league after a rough start to his rookie season, but this kind of vague talk is at least a little concerning.
Now, this could be an exaggeration. Teasing something like that requires no risk for the writer and paints a picture without signing your name at the bottom. Then fans and media.... like this blog, take it and interpret it in ways which are in no way relevant to what's actually going on. But if nothing else it serves as a reminder that we like to look at players' efforts to being isolated to on-court matters, and that in reality, as with anyone's life, there are a number of factors, personal, professional, and medical playing into each player's performance.