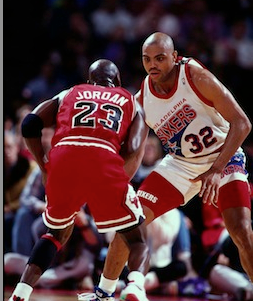 The only way Barkley would have won a ring is if someone bountied Jordan.
(Getty Images)
Posted by
Ben Golliver
Hall of Famer Charles Barkley said that a "bounty system" -- purposefully injuring an opponent for monetary gain -- isn't exclusive to the NFL, where pay-for-hit has become a lead headline in the offseason.
Indeed,
in a DanPatrick.com interview
, the TNT commentator said he personally participated in a bounty during the 1980s.
"One time," Barkley said, before refusing to identity the target's name and team. "I can't tell you that... I can't incriminate myself."
Barkley's definition of a bounty is apparently a little bit different from the standard. In his version, the purposeful injury was a method for ensuring that the unwritten rules of the game were upheld rather than merely an attempt to knock a particular player out of action.
"We were getting beat by 30 points, back in my Philadelphia [
76ers
] days," Barkley remembered. "I'm a firm believer, if a guy shoots a three, that you knock his ass as far in the stands as you possibly can. We were getting beat by 30 or 40, I can't remember. This guy was shooting threes and running up and down the court. I said, 'Hey, we've got to hurt that guy right there.'"
Barkley put the bounty amount at $5,000.
Regardless of the sport or the circumstances, Barkley felt like the bounty was something that should stay in the locker room and away from media scrutiny.
"People are clearly going to overreact to the bounty thing," he said. "You have to be a punk to snitch that out. That's like giving a reporter an anonymous quote."
It's impossible to truly compare the NFL and NBA versions, obviously. In the NBA, there are so many different methods for enforcing unwritten rules or dealing with out-of-line behavior that don't involve maiming someone. There are hard, clean fouls. There is plenty of dead ball time to mill around and exchange thoughts without a line of scrimmage intervening. There's running your offense at a guy over and over to let him know he should chill out on the other end. There's purposeful trash talk that escalates to double technicals. There's pushing, shoving and "Hold me back!!!!" There's nose-to-nose staredowns. There's talking loads of trash to a guy while he's shooting a free throw. There's hard fouling the violator's superstar teammate to send a message. There's walking over a guy when he's on the ground to send a message.
The list goes on and on. Even the most intense NBA games rarely, rarely get to the point where a bounty would serve any real purpose. Of course, no pads or helmets and no tackling helps too. From Barkley's description, it sounds like this was a fairly rare occurrence. That's a good thing.
The "non-injury" theatre just laid out is fairly entertaining, in a pro wrestling sort of way. It's also way better than watching someone get carted off the court due to injury.
Hat tip: ProBasketballTalk