Posted by
Ben Golliver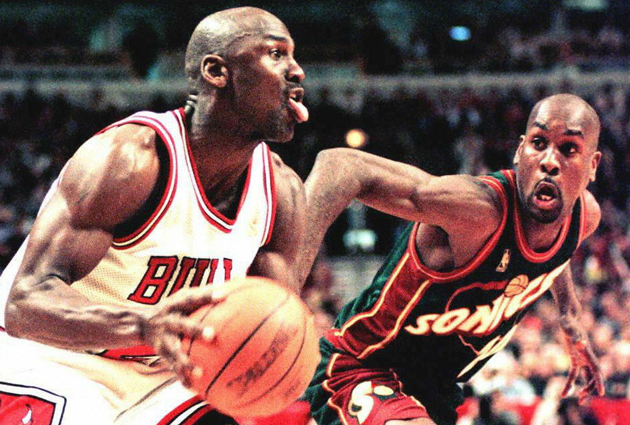 Barack Obama says Michael Jordan is the GOAT.
(Getty Images)
Sure, gasoline is $14 a gallon and North Korea and Iran are in a race to see who can be first to end humanity as we know it. But it's all good, because United States President Barack Obama got the correct answer when asked the world's most important question: Who is the greatest basketball player of all time?
During
a podcast interview with ESPN.com
, Obama didn't hesitate in making his selection: legendary Chicago
Bulls
guard and Naismith Basketball Hall of Famer Michael Jordan.
"You've got to go with Jordan," Obama said.
Point for point, Obama hit on all the major arguments in Jordan's favor: rings, passion, skill, clutch ability, marketing impact and swagger.
"You've got guys who are comparable in terms of talent," Obama said. "I think LeBron [James] is as talented as Michael is. You've got guys like [Larry] Bird or
Magic
[Johnson] who had that same will to win. But combining that package and then just always being there at the moment. Very rarely not hitting that shot. Like, Utah at the end... And the grace with which he played. There was a charisma to him on the court. You could not not watch him. Unbelievable."
Obama, a senator from Illinois before he became president and a big-time Bulls fan, was asked whether his selection was influenced by those factors.
"That's an NBA pick [and not a Chicago pick]. You never had a combination of talent and fierce will to win and longevity and rising to the occasion. I haven't seen it."
Since Jordan retired, the "Greatest of All Time" question has never been anything more than a two-player debate: Jordan or Boston
Celtics
center Bill Russell. No one else comes close when it comes to rings, individual accomplishments and overall dominance of their era. Jordan is the right choice, given his global impact and command over a larger, better, smarter league.
But Russell doesn't go home empty-handed. After all,
Obama awarded him
the Presidential Medal Of Freedom back in Feb. 2011.
"Bill Russell is the former Boston Celtics' Captain who almost single-handedly redefined the game of basketball," Obama said in a White House statement at the time. "Russell led the Celtics to a virtually unparalleled string of eleven championships in thirteen years and was named the NBA's Most Valuable Player five times. The first African American to coach in the NBA—indeed he was the first to coach a major sport at the professional level in the United States—Bill Russell is also an impassioned advocate of human rights. He marched with Dr. Martin Luther King, Jr., and has been a consistent advocate of equality."