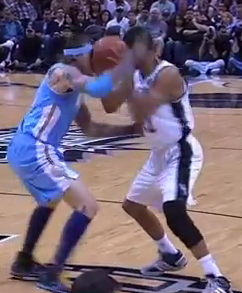 Tim Duncan clocked Chris "Birdman" Andersen in the head on his way to a poster.
(Getty Images)
Posted by
Ben Golliver
His body covered in tattoos and his past dotted with drug abuse, Denver
Nuggets
big man Chris "Birdman" Andersen is no stranger to pain. No matter, San Antonio
Spurs
big man Tim Duncan was happy to re-introduce him.
The mild-mannered, strictly-business Duncan delivered one-two-three strikes to Birdman in less than five seconds during a Sunday night game at the AT&T Center.
With the Spurs trailing with less than two minutes remaining in the first quarter, Duncan turned to face up on Birdman roughly 12 feet from the hoop. After a series of ball fakes, Duncan drew the ball back from left-to-right, clocking Birdman right in the face as he began his dribble drive.
With Birdman briefly stumbling and holding his face, Duncan took advantage of the opportunity, using a gather dribble to ascend through the heart of Denver's defense towards the hoop. By that point, Birdman recovered just in time to get put on a poster, as Duncan finished a one-hand dunk with authority over Andersen's challenge.
Then, for good measure, Duncan's momentum carried him into Birdman, causing Andersen to fall to the ground to further the embarrassment.
Let's review: clocked in the face with the ball, dunked on hard, thrown to the ground. That's a tough five seconds.
Here's the video of Tim Duncan abusing Chris "Birdman" Andersen via
YouTube user nbaus3030
and
@Jose3030
.
Hat tip: IAmAGM.com
.