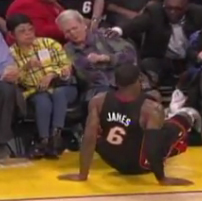 LeBron James crushes a woman's sandaled foot.
(ESPN Broadcast)
Posted by
Ben Golliver
Falling short late in games is surely frustrating, but that's no reason to pick on a defenseless woman.
On Sunday, Miami
Heat
All-Star forward LeBron James suffered a second straight defeat, as the Los Angeles
Lakers
emerged from a nationally-televised showdown with a 93-83 win at Staples Center. This after James had been ridiculed for passing on the game-deciding possession during a Friday night loss to the
Jazz
in Utah.
On Sunday, James' late-game folly was less about choking and passing and more about crushing and stomping. Indeed, James just demolished a gray-haired woman's sandaled foot during the game's closing minutes, rolling his left ankle in the process.
With a little bit more than a minute left to play in the game, James attempted to intercept an inbounds pass and went crashing into the courtside crowd. There, his foot landed squarely on the sandal of an elderly woman, who seemed none too pleased about it. James rolled around on the court briefly in pain but was able to continue playing. The woman, however, looked shocked, mortified and terrified, all in one.
James is listed at 6-foot-8 and 250 pounds so that's a lot of force coming down on the toes and toenails. He finished with 25 points, 13 rebounds, 7 assists, 3 steals and 2 blocks in 43 minutes on 12-for-26 shooting.
Here's the video of Miami Heat forward LeBron James stepping on a woman's sandaled foot during the fourth quarter of a loss to the Los Angeles Lakers at Staples Center.