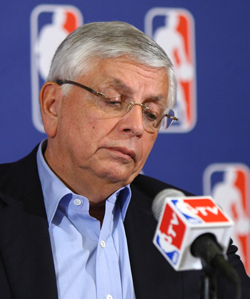 An NBA world without David Stern is an NBA world tough to picture.
(Getty Images)
Posted by Royce Young
David Stern has made it pretty clear that the end is near for him in the commissioner's seat. He stressed at All-Star Weekend that he would not be around for the next collective bargaining agreement, whether that comes in 10 years, or six.
But as for how soon? Maybe just two seasons from now,
reports the New York Daily News
:
Insiders say that David Stern is planning to tell NBA owners at their April Board of Governors meeting that he's good for two more seasons, and that he'll step down as commissioner then. "At one point, he had talked about doing it for one more season, but it looks now like two more," said a league source. League suits say there probably won't even be a search conducted to find a successor and that deputy commissioner Adam Silver is a lock to succeed Stern, with one source saying Stern's lieutenant has the backing of almost 90% of the owners. All he needs is a simple majority.
Stern has almost been as much a constant in the NBA as the basketball itself. He's been around for 27 years since taking over for Larry O'Brien in 1984. To think of the league without him is, well, strange.
He's likely ready to go. He at least sort of seems prepared for it. He emphatically endorsed deputy commissioner Adam Silver in Orlando and really appeared completely at ease with passing the torch.
But it's the sort of thing where you believe it when you see it. Stern's been at this a long time and has probably been planning his exit route for a while. He wants to make sure the game is as healthy as it can possibly be when he hands the keys to the big car to Silver. With a new CBA in place, Stern is going to be sure that the game is in a great place.
Whenever it happens, he's going to leave behind quite a legacy. Which he should over 27 years. He's always been considered one of, if not the best commissioner in sports history, and once he finally leaves his post, we'll all spend plenty of time evaluating that I'm sure. As for Stern, he put it simply this year in Oklahoma City how he wanted to be remember: "Both teams played hard," he said.