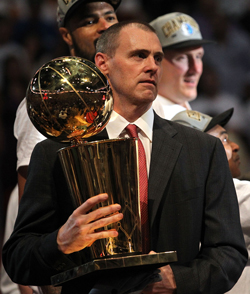 Rick Carlisle has a trophy, but he doesn't want the headaches involved with Lamar Odom.
(Getty Images)
Posted by Royce Young
It's not going well for Lamar Odom in Dallas right now. He's not playing well, he left the team this week for personal reasons and instead of returing to the
Mavericks
, he'll be headed to their D-League affiliate in Frisco instead.
And don't think for a second the Mavs are entirely cool with it all. In fact, coach Rick Carlisle is pretty much fed up with Odom.
Via ESPN Dallas
:
"When he comes back, we're going to find out very quickly where things are at," Carlisle during his weekly appearance Friday on the ESPN Dallas 103.3 FM's "Galloway & Co." "He's going to have to show us with his actions and attitude that he's in."

[...]

"Mark asks a fundamental question of anybody in our franchise: Are they in or are they not in?" Carlisle said. "Our fans want to know that Lamar's in. Our players want to know that Lamar's in. It's not about how many points he's scoring or rebounds; those things are a factor. Our fans, our players want to see the guy playing like his pants are on fire and we haven't seen that so far and that's got to change."
If Odom had been clearly committed on the floor, this obviously wouldn't be a question. But he hasn't come close to playing anywhere close to the level he did last season with the
Lakers
when he won Sixth Man of the Year. He hasn't just had a down year. He's fallen on his face. And the Mavs, notably Carlisle and the locker room, are pretty much sick of it.
"There is a personal issue here and we do not know the extent of it or the details of it," Carlisle said. "There is a fine line between compassion, which our owner is showing, and gross insensitivity."

"I'm disappointed," Carlisle continued, "with the way the whole thing's gone. We've worked hard with this kid. I'm a patient guy, Mark is a patient guy, Donnie is a patient guy, our team is a patent team, but patience has worn thin here.

"... This is serious business. The business of winning NBA basketball games is serious business. This is not easy. It's not easy to win a game in the NBA. ... We need people that are engaged and we need people that are into it. Our players will tell you the same thing. You ask Jason Kidd, you ask Dirk and they're going to tell you the same exact thing, and every night that you step onto the court or you step into that coaching box, it's a war and you've to got to be ready to go to war as a player and you've got to have people around you as a coach on your coaching staff, and ownership that are ready to go to battle with you and that's what we ask."
Tell us how you really feel, Rick. But he has reason to be worn out with it. At a certain point you can't just toe the company line and say everything that's politically correct. Odom's making almost $9 million this season and he's not holding up his end of the deal. He's mailing it in for the Mavs and they aren't happy with it.
Carlisle even said this, which I thought was maybe his strongest quote: "When Lamar comes back, if he comes on the floor and he competes the way people expect him to compete as a member of a world championship defending team," Carlisle said, "this problem will go away." The Mavs aren't hiding behind anything here. Their cards are on the table. Now it's up to Odom to meet them.
Odom's agent, Jeff Schwartz, put out a statement Friday on behalf of his player.
"The whole idea of going to the D-League was Lamar's," Schwartz said. "He proposed it to the Mavs; they never asked him. He wanted to get some floor time in actual game conditions before rejoining the team. People need to educate themselves on the rules in place here. NBA veterans don't get sent to the D-League without their consent."
No, they don't. But NBA veterans the caliber of Odom don't typically have to be.