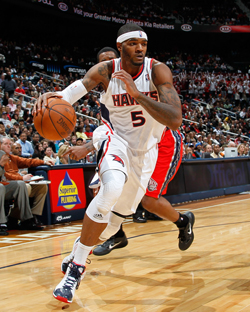 Could Smith be shipping up to Boston soon?
(Getty Images)
Posted by Royce Young
Any day now. Any day, we're going to all be talking about the big trade the
Celtics
just made. Because there's just too much smoke for there not to be a fire.
There's the
Rajon Rondo
stuff, which is complicated. But there's also been chatter about the Celtics shopping their other core members.
Including this from the New York Daily News
:
"Ainge is trying to land Atlanta's Josh Smith and other young studs, while offering up Kevin Garnett. Paul Pierce and Ray Allen can also be had, for young players and draft picks. Rajon Rondo might be leaving, too, with the Lakers and Utah seen as possible destinations."
Two deals there are interesting: 1) Rondo for Smith straight up. The Celtics get a younger player to be a cornerstone for the future inside, while the
Hawks
get what they desperately need, a point guard to orchestrate the offense.
And 2) Kevin Garnett and Ray Allen for Smith,
Kirk Hinrich
and
Zaza Pachulia
. The Celtics cut ties with their core and bring in a completely capable power forward to replace Garnett, while the Hawks, a team stuck in neutral, get Garnett and Allen giving them the chance to maybe make an actual run for once. While at the same time opening up some cap flexibility in the future.
Did I just spend 20 minutes playing with the Trade Machine to come up with those? Yes, yes I did.
Point is, the Celtics are looking at maybe shaking everything up. It's hard to see them moving Paul Pierce as he's been a part of that organization for so long as still appears to have good years left, but it might be time to finally break away from Ubuntu and start making moves. Because this Celtics team isn't winning anything any time soon. Heck, it's a question as to if they're making the playoffs right now.
Ainge tried to get younger in acquiring Jeff Green lasts season, but obviously that backfired. And he's certainly looking at doing the same this year too. He doesn't want to go through a total rebuild, not after all these good years. He wants to restock and retool the team by grabbing some young talent. And the only way to do that is to rip the bandaid right off and make a tough call on your key players.