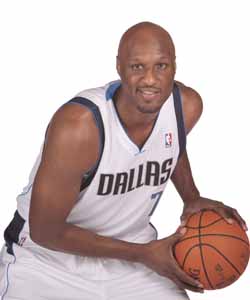 Odom has a stop to make before he returns to the Mavs. (Getty Images)
Posted by Royce Young
Hard to imagine
Lamar Odom
won the Sixth Man of the Year award last season, and did it with maybe his most efficient season ever.
Why is that hard to imagine? Because he's headed to the D-League,
according to ESPN.com
.
The Dallas Mavericks hope to have Lamar Odom back in uniform in a matter of days, but it might not immediately be a Mavs uniform, sources said.

Odom is likely to play at least one game with the Mavericks' D-League affiliate in nearby Frisco to, as one source said, "get his legs back under him." The Texas Legends play the Austin Toros at home Thursday night, but sources said it's more likely Odom practices with the Legends on Friday while the Mavericks are in New Orleans and then plays Saturday's home game with the Legends, also against Austin, while the Mavericks are playing host to Utah.

A team spokesman had said earlier Thursday that Odom will not make the trip to New Orleans. The team plans to provide another update on Odom's status before Saturday's game.
Odom was given a week of personal leave from the team after he left the team before the All-Star break to tend to an ill father. The assignment is more seen as something to help him just get back in shape. But then again, with the way Odom has performed this season, plus with the
rumors starting to swirl around him
, it's easy to assume there could be more to this.
Maybe the Mavs are deep in trade talks right now for him. Maybe they're just unhappy with his production and effort and are trying to grab his attention. Or maybe Odom really just needs some time to get back in shape.
As for buying him out, Cuban says it's not happening.
"We're not going to buy out anybody, there's no reason to do it," Cuban said. "We're not going to do that. That's not the way we work. We try to find what the problem is and fix it."
Since his trade from the
Lakers
before the season, Odom clearly hasn't been the same player. It's mostly a mental thing, as he was wounded by the way the Lakers sent him uncerimoniously out of town.
He also briefly considered retirement
due to an unexpected death in his family. So Odom has been dealing with issues off the court, which have affected him on it.
And right now, he's away from the Mavs on leave and likely is headed to Frisco before he finds his way back into a Dallas uniform, if he comes back to Dallas at all. My, how things change in a year.