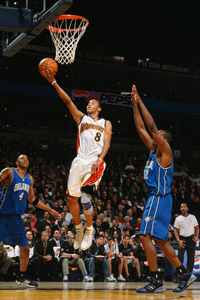 Monta Howard is rumored to be targeted by the Magic.
(Getty Images)
By Matt Moore
ESPN reports that the Magic are not only trying to keep
Dwight Howard
with this Magic team, they're trying to improve the one they have.
The Orlando Magic have reached out to the Golden State Warriors about trading for Monta Ellis, according to league sources.No deal is imminent, but Orlando is trying to add Ellis to its roster in hopes of appeasing Dwight Howard. Rather than aggressively pursuing a trade of Howard before the March 15 deadline, the Magic are desperately seeking a move that will convince Howard he can stay in Orlando.
via
Source -- Orlando Magic reach out to Golden State Warriors about Monta Ellis trade - ESPN
.
ESPN notes that the Warriors are essentially "meh" on the idea, so Orlando's having to pull in a third team. That's the theme of this year, really. The Magic have laden themselves with such terrible contracts they only have
Ryan Anderson
to move in a potentially big deal, but he's not a star, isn't a veteran, and if they lose Howard, they desperately need to keep him. So they not only have to find a third team, but they have to find a third team interested in the poor trade pieces they have, whether it's
Glen Davis
,
Jason Richardson
,
Hedo Turkoglu
and his monster contract, or
Jameer Nelson
.
That won't be easy.
Ellis and Howard would be a great fit, though. Ellis can create off the dribble and score in bunches, which would make life easier for Howard. He's a remarkably good post-up guard, and can create some assists in the right situation. Defense is always the question, but Stan Van Gundy could probably work some magic there like he has with so many. But is Ellis enough to get Howard to stay? That's always the question and the more desperate Orlando becomes to keep Howard, the worse their odds become, you would think.