Posted by Royce Young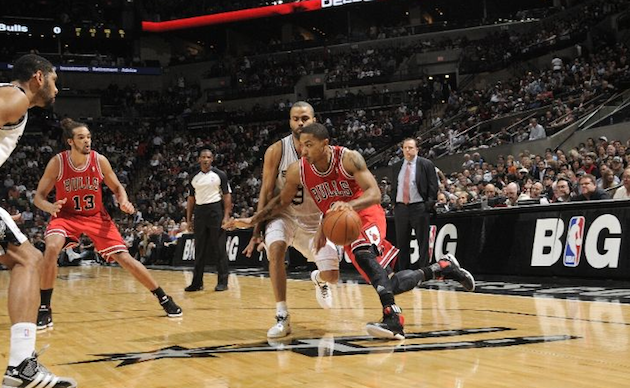 Rose closed the door on San Antonio Wednesday .
(Getty Images)
There are certain moments in a season you can take with you. Certain moments you can put in your back pocket to call back on at a later time. Certain moments that are building blocks for the bigger picture.
Derrick Rose
had a few of those moments Wednesday against the
Spurs
.
It's not just that he had a good game -- 29 points and four assists in just 30 minutes. It's that he came up big in big moments. Not that that's anything new. He won an MVP last season for it. But two shots against the Spurs stick out. The push shot off the backboard with the
Bulls
up one to make it 81-78 with 1:46 left. Then the jumper right after it answering a
Tim Duncan
hook to make it 83-80 with 1:09 left.
The Spurs charging the Bulls, their home crowd behind them,
Gary Neal
burying everything, and there Rose steps up with back-to-back baskets. Those type of shots aren't for the faint of heart. They're the type of shots you expect your star to make for you. That's why teams like Oklahoma City, Miami and Chicago have the best records. Because they have guys they can rely upon in those crazy, desperate moments.
Those are the moments the Bulls, and more specifically Rose, struggled with against the
Heat
last postseason. Those moments of finding looks, finding space to score and coming up with big baskets as another talented team stared you down. Rose couldn't shake free of the Heat. But against the Spurs, he came up with two big baskets as the Spurs hounded and doubled him. Then when San Antonio over-rotated to compensate for Rose, he kicked out to
Ronnie Brewer
who swung it
Luol Deng
for the dagger triple.
Smart basketball almost always wins. Almost. The Chicago formula has never been all that complicated. It's basically been grit things out, bottle you up offensively and hope No. 1 can carry the load just enough. It's worked a whole lot. The Bulls finished with the best record in the East last season and with Wednesday's 96-89 win, they're 28-8.
But against teams like the Heat, that formula failed, mainly because Rose couldn't hold up his end. Not for a lack of trying, but simply because he either couldn't find enough air to breathe from Miami's defense, or because he just missed a contested shot. Didn't happen against the Spurs, a team that's been wonderful at home (13-1 in San Antonio before Wednesday) and a team notorious for devising quality gameplans for stopping talented opponents.
The game showcased what makes Rose one of the toughest, most competitive winners in the league. He banged knees with
Tony Parker
in the first half and writhed on the ground in pain. No bother for the MVP, who checked back in and went to work. He would've had a decent excuse had he faded late in the game -- bad back, bruised knee, toe issues -- but Rose instead finished strong. He started the game 6-15 from the floor. He hit four of final eight attempts, including a perfect 8-8 from the line.
It was precisely these type of performances last season that won Rose the MVP. People could see how important he was to the Bulls' success, how he essentially had to drag that band of above average role players to an elite status. But when you deal with the pain of faltering in the big moments, something Rose puts squarely on his shoulders, it changes you. Those jumpers you hit in crunch-time against top tier teams like the Spurs mean a little more. They're something you can recall, something you can rely upon as you gear up for later showdowns.
Each time Rose closes for the Bulls, he's one step closer to being ready for what the Eastern playoffs will throw at him. On back-to-back nights, he made big shots for the Bulls. If you hit enough of them, they kind of start to become habit. They aren't so daunting anymore, don't carry that same pressure. Rose has always been willing to take the shots. Now he's making them. And that's something he can take with him.