Posted by Royce Young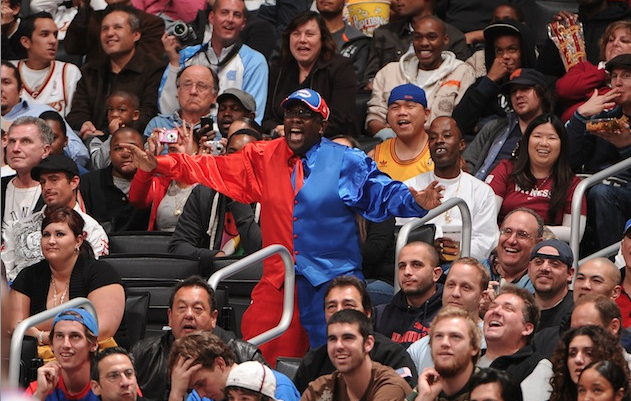 Clipper Darrell is no more, but the Clippers say he never was.
(Getty Images)
The franchise's most famous fan, Clipper Darrell, put up a
post on his website Wednesday titled "I AM DEVASTATED!!!"
detailing that the Los Angeles Clippers are having him remove the word "Clipper" from his superfan moniker.
It sparked some serious backlash in just a few short hours with
Chris Paul
,
Blake Griffin
and
DeAndre Jordan
all tweeting support for Clipper Darrell, while the L.A. superfan actually trended on Twitter for about an hour. The Clippers, an organization that doesn't have a sparkling public image, released a statement regarding the issue.
Via the O.C. Register
, here's the statement in full:
"The Clippers have done absolutely nothing wrong or inappropriate as it concerns Darrell Bailey. His claims are absurd and unfounded. He has never been an employee or representative of the Clippers organization, and therefore cannot be terminated. The Clippers have never engaged Mr. Bailey's services. When he has been in need, the organization has regularly provided him a seat for games. No good deed goes unpunished.

"We have had multiple conversations with him concerning his inappropriate use of the Clippers' team name and trademark for his own unmonitored commercial gain. We have spoken to him repeatedly about his desire to make public appearances in ways which improperly suggest that he is officially affiliated with our organization. In all cases and over a long period of time, he has consistently rejected our efforts to operate in consultation.

"In a conversation with an authoritative and tenured Clippers' executive last week, he was asked again to either consult with the team on all public appearances and/or commercial ventures, or stop undertaking those opportunities representing himself inappropriately. His response was an offer to stop representing himself commercially in that way and his offer was accepted in principle.

"The next thing we heard was the baseless claims he has made today and the ensuing media rush to judgment.

"We hold all of our fans in the highest esteem and we have been patient and generous with Mr. Bailey. He has not returned our support in an honorable way. He is not actually a fan of the Clippers, but a fan of what he can make off of the Clippers. We are no longer interested in that kind of association with him, and that is why we accepted his offer to remove our team name from his stage name."
Wow. So not only did they deny the accuracy of Darrell's story, they burned Clipper Darrell to the ground. "He is not actually a fan of the Clippers, but a fan of what he can make off of the Clippers." That's... wow.
There likely has been a rush to judgment and I'm sure we all don't know the extent of the relationship and all the details involved. But that's the point of PR. To make sure the message is clear and the story is handled well. Even if the Clippers have a point, you can't deny that this is a bad look. And that release certainly isn't going to help things. They basically assassinated the fanhood of their most famous fan.
Obviously this wouldn't be a big deal as the organization certainly has a point about Clipper Darrell's portrayal as a team employee, but the timing is awful. Right when the Clippers have risen to a popular, successful team following a blockbuster trade, they alienate their most vocal and visible fan.
But then again, should we really be all that surprised?