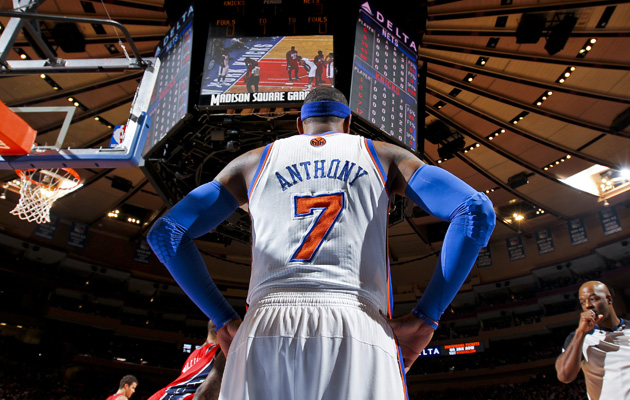 Will Carmelo Anthony's legacy be more than just that of a pure shooter?
(Getty Images)

By Matt Moore
Gregg Doyel of CBSSports.com writes Wednesday
of how
Carmelo Anthony
has a chance to be special and thus far... simply hasn't. Doyel specifically outlines a fact debated and wrought over constantly when it comes to Anthony, the fact that he is primarily a scorer. In these here blog circles, it's a bit more narrow than that: Melo can best be described as a volume shooter. Scorer's can be efficient, sharp-shooting, bucket-filling maniacs who don't excel at much of anything else, but what they do, they do exceptionally well. Anthony, on the other hand, is going to shoot roughly the same amount from game to game. There are nights when he's going to be brutally efficient. There are nights when he's going to be brutally inefficient. The approach never changes. And that may be the biggest problem of all with Anthony's game.
Doyel talks about the threat of winding up like a pre-Boston
Kevin Garnett
, what with the high praise and no substantive playoff success outside of a single season. Two thoughts there:
The immediate response is to bring up Anthony's Nuggets' 2009 run to the Western Conference Finals. There are a number of things to note in that regard, however. First, the Nuggets' second-round win over the Mavericks was about as tough as a series that short can be, with a crucial non-call on an intentional foul late providing quite a bit of drama in the proceedings. Second, the West that year was paper thin. It was essentially the Lakers and that's it. This isn't to take away from that Denver team, but it needs to be noted. And third, that Denver team was the same as it was for years with Melo; their success was as much due to Anthony's brilliance as it was to George Karl's ability to coach around Anthony's talents. The two things worked side-by-side, they just didn't necessarily work together. It was like "The Nuggets do this, this, and this well, and also Carmelo Anthony is very good."
Doyel mentions that Garnett did everything else in his time in Minnesota, "scored, rebounded, assisted, defended, hustled, led."
And it's that last part that seems particularly relevant as the
Knicks
continue to try and adjust to life with his nearly entirely new lineup from the start of the season (and without a major trade!).
Jeremy Lin
,
J.R. Smith
, Melo,
Amar'e Stoudemire
, and
Tyson Chandler
. How does Anthony fit? We've talked about some x's and o's, but there are some other questions invovled.
For starters, most volume shooters are that because they are not good at any other particular area. Is Anthony that kind of player? Well, no. He's averaged 6.3 rebounds for his career, with a high of 7.3, very good for a small forward. Anthony can have games where he controls the defensive glass. What about passing? The 2009 Western Conference Finals run from Anthony's Nuggets featured him dishing 4.1 assists per game. He had a 19.8 percent assist rate that season (percentage of team assists), higher than any regular season for Anthony before... this one? We'll come back to that in a minute. And what about defense? There are metrics I could run at you, but let's just say this.
The Nuggets' most successful season with Anthony, that 2009 run, came when Anthony became a lock down defender for about 30 games. He was simply phenomenal. That may be the most frustrating thing about Anthony, who is widely regarded as a turnstyle defensively. He
can
be an excellent defender. He can lock up guys, destroy their spacing, ruin their day. He just... doesn't.
The key for Anthony may be honestly to get as far away from one of his biggest mentors' approaches as possible. Anthony and
Kobe Bryant
share a kinship in their approach to the game. But Bryant's success in essentially doing things his way 100 percent of the time is nearly impossible to duplicate. Maybe if Anthony had Phil Jackson, it would be easier. But he doesn't. And if he wants to be successful right now, moving away from an intractable approach and towards a dominance in versatility is the best thing for him. He needs to do everything.
There are signs Melo is trying. He worked off ball for much of the first-half against the
Heat
, making cuts to get to the rim. It was only after the Heat had buried the Knicks (and Lin) with their suffocating defense that Anthony returned to blistering the offensive flow with Isolation sets shallow in the shot clock. His assist rate, as previously mentioned, is the highest of his career at 22.7 percent, over four per game. He's clearly trying to get his teammates involved.
He's eighth
among small forwards playing 30 minutes or more this season in assist rate. With the kind of talent around him, is that enough? How much can we reasonably expect?
The answer's not in the empirical, it's in the perceptible. The shift needs to continue to be Anthony working to get out of his comfort zone. Bryant has remarked several times about hoping Anthony doesn't shift his approach due to the criticism. Thing is, that criticism isn't (always) unwarranted or about devaluing his elite gifts as a scorer. It's about fit, and flow, and making the Knicks the best they can be. Michael Jordan got to play the way he wanted because he was the greatest of all time. Kobe Bryant has been able to because he's the second greatest shooting guard of all time and he was granted a team specifically built to provide him with the best support possible. Anthony is trying to fit in with a team of good players, and he is not one of the greatest of all time.
Anthony can do something "special" as Doyel describes, but he's got to become versatile, he's got to take the same approach to the other parts of the game that he does to scoring. He's always going to get the ball late with a chance to win. He's always going to get a chance to rise and fire. But for it to matter he has to take on the rest of the things that make up a complete game.
Anthony can be great, if he chooses to be. Making this Knicks team work isn't easy.
When life is hard, you have to change.