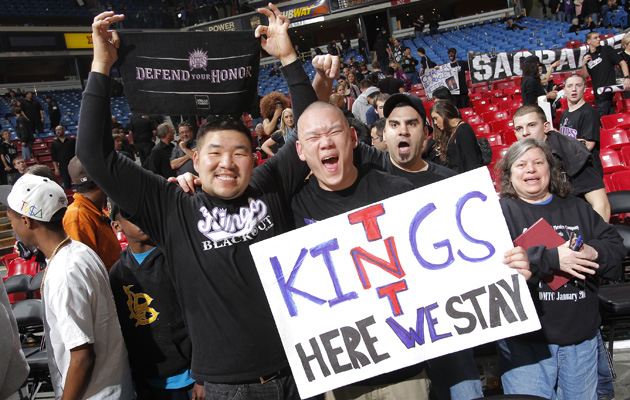 Looks like they were right. They are staying.
(Getty Images)
Posted by
Ben Golliver
The
Kings
have taken a significant step towards remaining in Sacramento for the foreseeable future, with team and city agreeing to the "framework" of a stadium financing proposal, according to multiple reports.
SI.com
and
NBA.com
reported that Sacramento Mayor Kevin Johnson and the Maloof family, who owns the Kings, told reporters in Orlando that stadium funding is on track.
"It's game over, so our community should be really excited," Johnson said, according to SI.com. "I want to jump up and down."
Johnson added, according to NBA.com: "I'm very excited. It's a new day for Sacramento. We've all been working around the clock to get to this point."
Negotiations that involved the NBA league office, the City of Sacramento and the Maloofs took place throughout All-Star Weekend.
During his
annual All-Star Weekend address on Saturday
, NBA commissioner David Stern said that a deal was close but that money still separated the two sides and that "several remaining [deal] points" need to be hammered out.
"Life is a negotiation," Stern said on Saturday. ""The City would like the Maloofs to make the largest ‑‑ both have come up with very substantial contributions. It's really getting there. It's just not there yet. And we're looking for other ways, imaginative ways, to bridge the gap ... It's coming down to money after all of this? Yeah."
SI.com reports that the Maloof family will put up $73 million towards the $387 million expected price tag and an additional $60 million could follow in future years.
SacTownRoyalty.com reports
the next steps in the arena funding process include a City Council vote and approval of a plan to create stadium funding from parking structures.
The Maloofs attempted to relocate to Anaheim last season but the NBA actively encouraged the family to reconsider and give Sacramento another year. Johnson has been pushing hard to keep the Kings throughout the process. The city of Seattle has also been interested in landing a team.