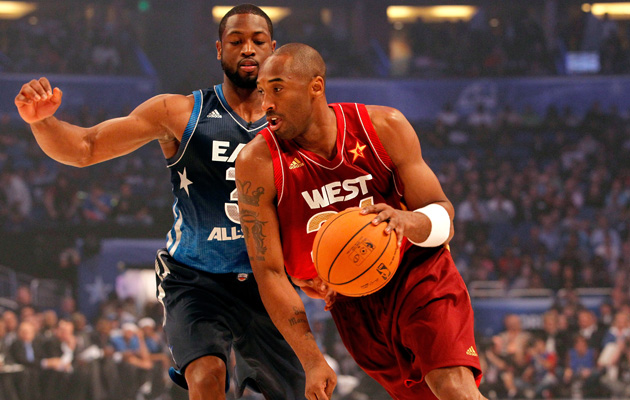 Kobe Bryant became the all-time leader in points in the All-Star Game Sunday.
(Getty Images)

Posted by Royce Young
ORLANDO --
Kobe Bryant
can check another milestone off his list. And it's his favorite kind of milestone -- the kind where he moves past Michael Jordan in something.
In the second half of the 2012 All-Star Game, Kobe passed Jordan for first all-time in total points in the All-Star Game with a dunk late in the third quarter to give him 263 points. He passed Oscar Robertson (246 points) and Kareem Abdul-Jabbar (251) earlier in Sunday night's game.
Bryant, a 14-time All-Star (tied most all-time) and a four-time All-Star MVP, entered the game with 244 points, 18 behind Jordan's all-time mark of 262. Jordan's career-high in an All-Star Game was 40 in 1988. Kobe's was 37 in 2011.
Jordan played in 13 All-Star games, and Kobe's 13th as well. Both were selected to 14.
Kobe's career resume continues to grow to ridiculous proportions. He became the fifth leading all-time scorer earlier this season and with his All-Star appearances, titles (five), an MVP and all the rest he has in his pocket, it's pretty easy to build a top 10, if not top five case for Bryant.