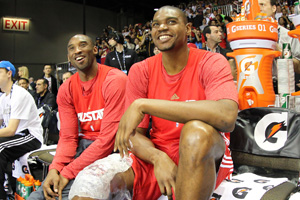 Andrewy Bynum says he could use the ball more in close games.
(Getty Images)
Posted by Royce Young
ORLANDO -- The Los Angeles Laker offense has been something of an enigma. Three All-Stars in the starting five, two of the most dominant bigs in the game and a Hall of Fame guard that is fifth all-time in scoring, while leading the league this season in points per game.
But the offense ranks 16th in offensive efficiency with 103.0 points per 100 possessions and 22nd in points per game with just 93.1 a night. Not great. But as average as the offense has been as a whole, it's gotten worse in crunch time situations. Scoring becomes a chore for the
Lakers
the last five minutes of a game.
"Crunch-time has been tough for us," center
Andrew Bynum
said Saturday. "Because we're not moving the ball, not playing the same style of basketball that got us where we were at. And really, that has a lot to do with the coaches and just kind of getting people in the spots that are going to make them successful."
It's a little hard to really decipher what Bynum meant there. He said that with a casualness that doesn't suggest that he's throwing blame at Mike Brown and his staff, but he did say that not moving the ball and playing the same style as the first 45 minutes of a game "has a lot to do with the coaches."
Obviously the Laker crunch-time offense runs directly through No. 24, but maybe it should feature Bynum a bit more. He's having one of his most productive seasons yet and is starting as an All-Star. He's averaging career-highs in points and rebounds per game and is shooting 54.4 percent from the field. So does he want the ball a little more late in games? But that means prying it from the cold dead hands of Kobe.
"If I'm doing good things with my touches, I just have to get the ball," Bynum said. "Actually, the team tried to get me going late in the game [against Oklahoma City Thursday]. They started to feed me the ball and that was great."
Bynum's referencing the fourth quarter against the
Thunder
in which he scored on back-to-back possessions, one a big dunk and the other a low block hook. After that,
Kendrick Perkins
checked back in to defend Bynum and the Laker big only saw one more touch as the Lakers struggled to stop OKC and score to keep pace, eventually losing by 15.
The Lakers had a players only meeting earlier that week that seemed to help though, Bynum said. The team responded with a big win in Dallas the night after. Question is, how long will that good mojo last?
"I think it will definitely carry over," Bynum said. "We have guys on our team that can play at a high level. It's just believing we can do that."
Bynum had a scheduled injection in his knee on Friday and sat out the West's practice on Saturday with a towel wrapped around his right knee. But it was all planned and he is expected to play in the game Sunday. Which means he'll be starting opposite of
Dwight Howard
, who has rumors swirling all around him right now. One being that he'll end up a Los Angeles Laker. What does Bynum think of that possibility?
"It would be great. We should get all three guys and nobody would ever score inside," he said. "We already have twin towers and that would just be like the same sort of thing. High-low action and I think our defense would be... crazy."