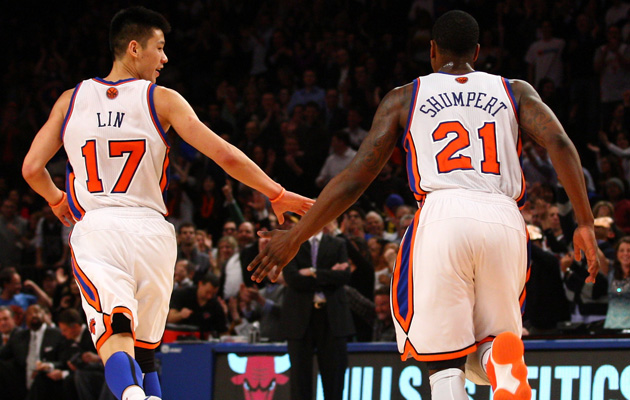 Iman Shumpert and Jeremy Lin's dunk would have involved a couch, Landry Fields and Sprite.
(Getty Images)
Posted by
Ben Golliver
ORLANDO --
Blake Griffin
's dunk-over-the-Kia will remain the corniest Slam Dunk Contest concept for at least another year.
New York
Knicks
guard
Iman Shumpert
was a late scratch due to injury, and Shumpert's departure prevented Knicks guard
Jeremy Lin
from taking the Slam Dunk Contest to a whole new level of ridiculousness.
Lin, a 23-year-old Taiwanese-American, has become a global sensation over the last few weeks. He barely avoided getting released by the Knicks before emerging as a big-time player once he moved into a starting role in February. The symbol of Lin's rags-to-riches journey became a couch, as he was reportedly crashing on the living room furniture of his teammate, Landry Fields, and his brother because he didn't want to rent his own place in Manhattan with his future unknown.
Word leaked earlier this week
that the Knicks guard duo planned to incorporate Lin and a couch into their 2012 Slam Dunk Contest routine.
Lin laid out the whole plan in detail during a Friday press conference prior to the Rising Stars Challenge.
"We actually had a sweet idea," Lin explained. "Landry was going to roll a couch out with a cover over it, I was going to be sleeping underneath it, and then we were going to pull the cover, I was going to throw Iman an alley-oop from the couch, and he was going to jump over both me and the couch, windmill it and then sit down and have Landry hand him a Sprite. That was our idea, but it didn't happen."
Shumpert scratched last week due to a sore knee, and he was replaced by Utah
Jazz
forward
Jeremy Evans
. Shumpert will also sit out the Rising Stars Challenge.
"He got hurt and hopefully he gets better," Lin said. "We miss him and wish he was here with us in this game that we're about to play."