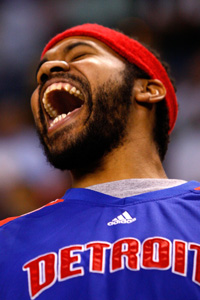 This guy could be a Laker soon, reportedly.
(Getty Images)
By Matt Moore
From CSN New England, reportedly, Rasheed Wallace is back:
CSNNE.com has learned that the former Boston Celtic forward plans to sign with the Los Angeles Lakers.

...

"His days as a starter in this league are gone," said the source. "I think he knows that, and so do the Lakers. But think about it. Of the big men that are available, is there one that's really better? And if he's gotten himself in shape, adding him becomes a huge get for them."
via
Source: Rasheed Wallace to sign with Lakers
.
The Lakers could use a better backup big that can hit from range, as
Troy Murphy
has severely disappointed,
Jason Kapono
can't get time on the floor and they lack a legitimate back up center. The question is whether Wallace has anything left in the tank. At 37 years of age, it's going to be a challenge to get back in shape, a challenge to get into the offense, a challenge to be able to play consistent minutes. This is a pretty big gamble for the Lakers, even on a minimum deal.
That said, Rasheed Wallace is back. Both teams played hard, my man, both teams played hard.
Also, can we mention that Rasheed and Ron Artest will now reportedly be on the same team? How amazing is that, given the brawl?