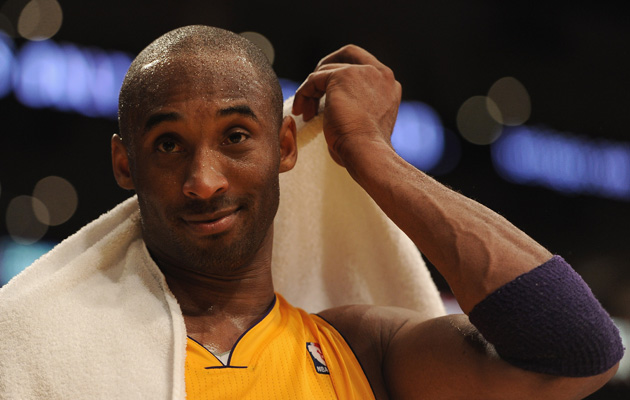 Kobe Bryant didn't feel like talking at All-Star availability Friday.
(Getty Images)
Posted by Royce Young
ORLANDO -- The biggest horde of media during Friday's All-Star availability piled up around
Kobe Bryant
's table and waited. And waited. And waited.
But he didn't show. The official word from the league was that Kobe was sick. Which means that he won't be fined for missing it. Calling in sick is always the best excuse.
Still, it's an odd situation for one of the league's one or two more visible superstars to spurn the mass of reporters, both foreign and domestic. Some even waited there for the entire 30 minutes before a league spokesman finally came over and said Kobe wasn't coming.
Bryant was the top vote-getter in the West with better than 1.5 million votes. It's Kobe's 14th consecutive All-Star Game appearance, which ties him for the most all-time with Karl Malone, Jerry West and Shaquille O'Neal. So obviously he's been here and done that.
But the no-show was a bit curious. There were rumblings it might happen earlier in the week and it's up for speculation as for the reason why. Maybe he didn't want to talk about the
Pau Gasol
rumors. Maybe he didn't want to talk about the Laker organization potentially being a bit in disarray. Maybe he didn't want to talk about how excited he is to be here. Maybe he didn't want to answer questions about
Jeremy Lin
. Or maybe he was actually sick. Who knows.
Kobe does have another appearance scheduled for Friday night, a special "surprise" announcement with
LeBron James
,
Omri Casspi
,
Serge Ibaka
and
Andrea Bargnani
. We'll see if he calls in sick to that too. The only other availability for Bryant this weekend would be following Sunday's game. So by skipping the Friday time, he basically avoided pretty much the bulk of the questions he'd have to answer.
It's not the biggest deal in the world to skip out on the availability, even though he is the only player that didn't show up. All 23 of the other players were there and spent their 30 minutes talking to reporters.
Now if Kobe skips out on Sunday night, well, then
that's
certainly a big deal.