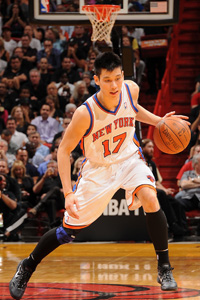 Team USA head Jerry Colangelo says they will consider Lin for USA Select.
(Getty Images)
Posted by Ben Golliver

ORLANDO -- Could Jeremy Lin's overnight success story wind up landing him a future spot with Team USA?
It's possible, according to USA Basketball Chairman Jerry Colangelo, who told reporters at an All-Star Weekend press conference that the New York Knicks guard will be given consideration for USA Basketball's Select Team, a player pool used to cultivate potential Team USA members.
"We'll look at him as well as anyone else who is doing the job," Colangelo said. "If we think they are worthy of being invited we'll bring them in to Las Vegas to do just that."
Colangelo said that "a list of names" was being formed and that Lin was "off to this great start" for the Knicks.
"Everyone has to pay their dues," Colangelo said. "We told players if you join us I promise you we are going to be successful but you have to do it our way. Those who participate earn equity in our program… There's a lot of players who want to play, who are paying their dues with the select team, who have participated with us over the last six years. No exceptions."

Team USA is stacked with point guard talent, with Chris Paul, Derrick Rose and Deron Williams expected to represent USA at the 2012 London Olympics. Asked if Lin's skillset was a fit with what Team USA looks for from its floor generals, Colangelo withheld judgment, but said that Lin is in an ideal spot with the Knicks, playing for Team USA assistant coach Mike D'Antoni.

"It's too early," he said. "I wouldn't even make a judgment like that. I would say, I believe that he's in the right situation to do well in New York. The way Mike D'Antoni plays offense. It's the extended dribble. In a different kind of configuration like the triangle I think it would be more challenging for him, not that he couldn't do it. I just think we just have to appreciate what he's done so far. Period. Commend him for what he's done. It's a great story."
Lin, a 23-year-old Taiwanese-American from California, went undrafted out of Harvard. His rise to NBA prominence seems to embody the spirit of dues paying that Team USA has tried to cultivate in recent years.
"I think it's wonderful," Colangelo said. "I love that. The whole story is great. First of all, think about the impact he is having and would have if this continues on the average guy, the average player. Hope. It doesn't get any better than that."