Posted by
Ben Golliver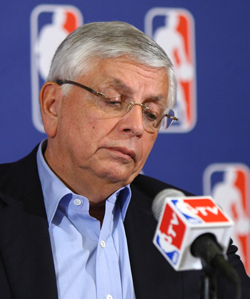 David Stern says "Linsanity" is unlike anything sports has ever seen.
(Getty Images)
NBA commissioner David Stern was in Orlando on Thursday night, getting ready for Sunday's All-Star Game. Of course, all he could talk about was the only player anyone wants to talk about these days: New York
Knicks
guard
Jeremy Lin
.
Hours before Lin took the court against the
Heat
, a few hundred miles South down I-95 in Miami, Stern told reporters that Lin's instant popularity hasn't ever been matched in sports history, not even by Sunday's biggest names,
LeBron James
or
Kobe Bryant
.
The Associated Press had the details.
"I haven't done a computation, but it's fair to say that no player has created the interest and the frenzy in this short period of time, in any sport, that I'm aware of like Jeremy Lin has," Stern said Thursday.


Lin, an undrafted guard from Harvard, has become the NBA's biggest story since coming off the Knicks' bench earlier this month to lead them to nine wins in 11 games heading into their matchup with Miami on Thursday night.

With Lin's popularity in Asia as the league's first American-born player of Chinese or Taiwanese descent, and with the religious community because of his strong Christian faith, Stern says he's "never quite seen anything like" the attention on Lin.

"It's fascinating," Stern said after the All-Star Jam Session opening ceremonies.

The top five videos on NBA.com since Feb. 4, when Lin joined the rotation, are all Lin or Knicks related. Lin went from 190,000 followers on Sina, China's version of Twitter, on Feb. 2 to more than 1 million as of Feb. 16.
Indeed, Lin's popularity is so out of this world that the NBA made a late roster switch to ensure his participation in the Rising Stars Challenge on All-Star Saturday, a game that includes the NBA's best rookies and sophomores. Lin is in such high demand that all of the game's other participants will meet with the media following a team practice on Friday while Lin will have his own, separate press conference later in the night.
This is Jeremy's world, folks. We're all just living in it. Even David Stern and the rest of the league's All-Stars, at least for the moment.