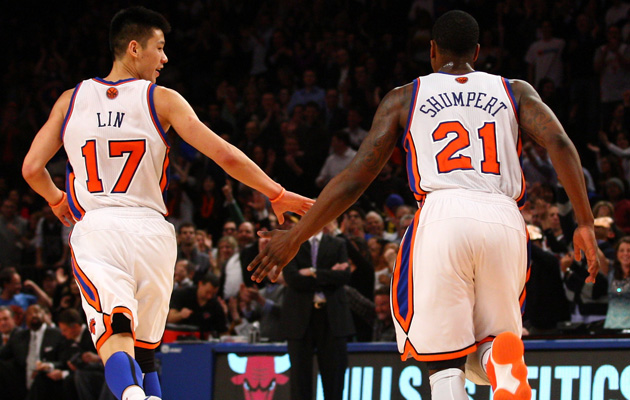 Iman Shumpert and Jeremy Lin's dunk contest dunk would have involved a couch.
(Getty Images)
Iman Shumpert
had to bail out of the dunk contest Wednesday due to nagging knee injuries that have hobbled the
Knicks
' shooting guard from time to time. It was disappointing not only to see the athletic Shumpert who New York fans either love or are completely ambivalent about drop out, but because point guard sensation
Jeremy Lin
was supposed to help Shumpert with his dunk
, and well, everyone's gone crazy seeing Lin do just about anything.
So what was it exactly that they were going to do before the
Jazz
'
Jeremy Evans
replaced Shumpert in the dunk contest
?
Remember how Jeremy Lin had slept on
Landry Fields
'
and his brother's couch for weeks
because he wasn't sure whether the Knicks would cut him or not? From the
New York Post
:
Yes, he and Jeremy Lin had talked about doing a dunk in which Shumpert would vault over a couch — the symbol of Lin's humble sleeping conditions.

"He was going to help me out,'' Shumpert told The Post. "Once my knee was so sore, I started thinking about it: 'Am I going to be able to jump over the couch?' All kinds of things to think about.''
via
Knicks' Iman Shumpert planned to use Jeremy Lin in Slam Dunk contest - NYPOST.com
.
On the one hand, it's a bummer that we won't get to see Jeremy Lin, preferably lounging on the couch or feigning sleep while Shumpert goes bananas over him, or tosses the ball up to him as
Baron Davis
did to
Blake Griffin
in the car last year. But on the other...
This was supposed to be Shumpert's time to shine. It's bad enough that the dunk contestants are taken away from the rest of not being involved in All-Star Weekend and into the media rush from one event to another, but to have your whole thing be centered around someone else? There's enough room for Linsanity during the regular season and throughout All-Star Weekend without having him take over the spotlight when Shumpert was going to be doing all the work.
All for naught, though, as Shumpert will try and get healthy, and Evans,
who very much wants to be a part of the dunk contest
, gets a go.
(Via
Posting and Toasting
)