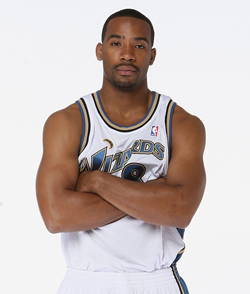 Javaris Crittenton was reportedly arrested again.
(Getty Images)
Posted by
Ben Golliver
Former NBA player Javaris Crittenton has mostly stayed out of the news since last August, when he was
charged with murder
in the shooting death of a 22-year-old mother of four in Georgia.
That changed on Wednesday morning, when Crittenton was reportedly arrested again by authorities in Georgia.
TMZ.com reports
that Crittenton was arrested for "speeding and obstruction of an officer" after getting pulled over for driving 60 miles per hour in a 45 miles per hour zone in a "black Porsche."
When the cop wrote up the ticket, Javaris refused to sign it, something you have to do to acknowledge receipt of the citation. As a result, we're told the officer asked Javaris to step out of the vehicle -- and Javaris refused again.

We're told words were exchanged -- and after the officer reasoned with Javaris, the former NBA player agreed to step out of the car ... at which point he was placed under arrest for speeding and obstruction of an officer. He was subsequently transported to Clayton County jail, where he is currently being processed.
Police charged Crittenton with murder last year, alleging that he
shot into a crowd of people
after being robbed of more than $50,000 worth of jewelry. The FBI had to
track down and arrest Crittenton in California
after he apparently fled across the country after the incident.
Prior to the murder rap, Crittenton was best known for his involvement in
a 2009 dispute over gambling debts
with then-Washington
Wizards
teammate Gilbert Arenas. The dispute ended with Arenas getting suspended for bringing guns into the Wizards locker room. Crittenton was released by the team shortly thereafter.
Crittenton, now 23, played just two seasons in the NBA, including stints with the Los Angeles
Lakers
, Memphis
Grizzlies
and Wizards. He was cut by the Charlotte
Bobcats
during training camp in 2010 and had been playing in the D-League. He averaged 5.3 points and 1.8 assists in 16.4 minutes per game during his NBA career.