Posted by
Ben Golliver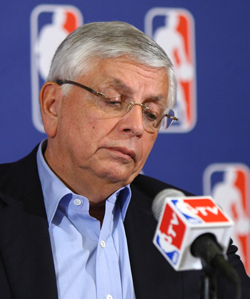 David Stern admits that the play this year has been "uneven."
(Getty Images)
Critics, including Naismith Hall of Famer Charles Barkley
here
, have decried the quality of basketball during this lockout-shortened season. Scoring is down, shooting percentages are down, injuries are causing players to lose a greater percentage of a team's games with the compressed schedule, back-to-back-to-backs have drawn
Heat
from basically everyone and there have been plenty of blowouts already.
In an interview with USA Today
, NBA commissioner David Stern acknowledged that he is aware of the criticism and that the compressed season, which attempted to fit 66 games into roughly four months, was not an ideal situation.
I don't think the media will let go of it for a while because it's all too delicious every time there's a blowout or every time there's a loss, you're saying this horrendous lockout-shortened season. … It's not the perfect season. It has its unevenness to it. It has coaches making decisions that they think are best for them and teams — like how to space minutes, how to deal with practice or not, scrimmage or not, how to deal with training. Some trainers are changing, actually, the nutritional direction of their team — emphasizing, perhaps, more massage for recovery than previously.


So this is enabling teams to see whether these very significant sums of money they're spending on lots of talent are going to be making a difference in the competitive landscape. And several teams believe it has. But they're treating it as trade secrets, which they don't want to share.
However, Stern defended the schedule, as he has done before, stating that sacrificing 16 games and compressing the season was a worthwhile sacrifice to better the game with a new collective bargaining agreement.
I think the 20% of the games of one season is going to turn out to have been a modest price to pay for the fundamental change in the league's operation going forward. And by that I mean its competitiveness and the value of its franchises.
To boil this down, Stern is basically saying, "Charge it to the game." NBA television ratings and online interest are way up, the
Jeremy Lin
phenomenon has essentially erased any of the ill will still left over from the ugly labor negotiations and attendance numbers league-wide are strong. The league can expect a number of big-market teams to be a factor come playoff time, thanks to the
Knicks
,
Lakers
,
Clippers
,
Bulls
and
Mavericks
. The Miami Heat, a major star-studded breadwinner, show no signs of slowing down.
The complaints are sure to fade by the time the playoffs roll around and once it's time for the NBA Draft, now just four months away, the league's calendar will officially be back on track. Stern can make a public admission like this now, because the storm has essentially been weathered.