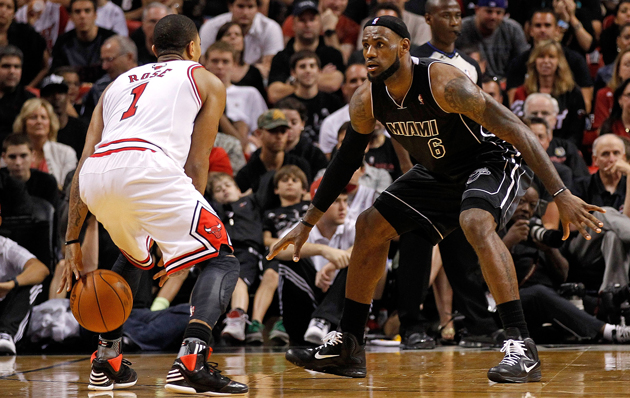 Familiar faces are back on the top at the halfway point of the season.
(Getty Images)
With 30+ games under everyone's belt, there's been sufficient time for NBA's thirty teams to adjust to the breakneck lockout-shortened season. The midterm results? The cream has mostly risen to the top, with preseason favorites Chicago, Miami and Oklahoma City continuing their dominant play. Traditional powers in San Antonio and Dallas have also emerged after slow (by their standards) starts.
CBSSports.com's Eye On Basketball staff sat down to grade each team based on potential and expectations, graded on a curve. Here's what we came up with.
Atlantic Division Grades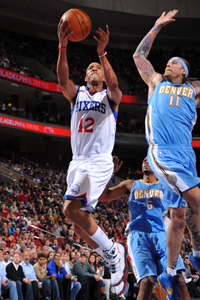 The Sixers continue to lead the way in the Atlantic.
(Getty Images)
by Ben Golliver

Philadelphia 76ers (20-13)
The Sixers followed up a sensational 11-5 first quarter with a middling 9-8 second quarter. Even with the choppy play in February, which includes a current 4-game losing streak, Philly still enjoys a 4-game cushion over its next closest division rivals. The 76ers boast the NBA's best defense, a top-8 offense, a Defensive Player of the Year Candidate in
Andre Iguodala
and an emerging reliable late-game scoring threat in
Lou Williams
. Their entire body of work through 33 games deserves top-level recognition.
GRADE: A-
New York Knicks (16-17)
The Knicks are virtually un-gradeable. Any team that discovers a player who is making
Jeremy Lin
's impact, paying him virtually nothing in the process, deserves an A+++ by default, right? That's the temptation, but this is a grade for the full first half of the season, not just the most exciting free agent find in recent memory. New York is much better than its record, thanks to
Tyson Chandler
's solid defense and the recent additions of Lin and
J.R. Smith
. Injury and role questions concerning
Carmelo Anthony
cast a bit of a shadow but, like MSG stock, the Knicks are a fast riser.
GRADE: B+
Boston Celtics (15-16)
For everyone's sake, let's hope one of the NBA's most unwatchable teams stumbles down the stretch so we don't have to watch them suffer through them getting swept in a first round playoff series. Boston has been a MASH unit all season and the trade deadline promises to be the most interesting portion of the Celtics' season. The timing of Boston's fall couldn't be better. At least this is the lockout-shortened season to minimize the damage with a fully-stocked draft and free agency class to offer hope just around the corner.
GRADE: C-
New Jersey Nets (10-24)
The only good thing about New Jersey's season is that
Deron Williams
hasn't yet publicly demanded a trade or rampaged on his teammates. 10 wins at this point is actually probably a win or two better than expectations given the roster that surrounds Williams and the injuries the team has had to deal with. Completely irrelevant for another season.
GRADE: D
Toronto Raptors (9-23)
The bright side is that Toronto's defense has improved from completely and truly awful last season to simply below average under new coach Dwane Casey. The offense is now bottom-3 in the league and the Raptors simply don't have the personnel to turn that around. Tank Nation was completely correct from the outset.
GRADE: D
Central Division Grades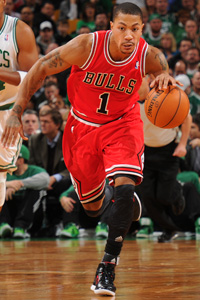 Rose remains unstoppable.
(Getty Images)
by Royce Young

Chicago Bulls (26-8)
It's no big surprise that the Bulls are 26-8 and see-sawing with the
Heat
for the East's top spot. But considering they've had to do it with a rash of injuries that had
Derrick Rose
and
Luol Deng
missing some time is what makes it impressive. Depth has been one of the Bulls' strengths and it's what has pushed them through the first half. They did this same thing last season too, getting by without
Carlos Boozer
. Now that they're getting healthy again, they're set up for a strong second half push.
GRADE: A
Indiana Pacers (20-12)
When grading a team, it's good to keep in mind preseason expectations. The Pacers were expected to be better than the team last season that slipped into the postseason, but how much better was the question. There have been some ups and downs, but the verdict thus far is that the Pacers are much improved and in position to fight for home court in the first round.
GRADE: B+
Cleveland (13-17)
The road back from "The Decision" is going to be long, but the Cavs clearly have picked up a pretty nice car to get there in
Kyrie Irving
. The Cavs probably aren't playoff material, but in terms of coming back from where they were last season when they dropped 26 straight games, they're on track. They're currently just four games under .500 and sit ninth in the East, just 1 1/2 games out of the playoffs.
GRADE: B
Milwaukee Bucks (13-19)
What's new in Milwaukee? Oh, just
Andrew Bogut
getting hurt again. And just their season going down the tubes with that. Remember how this was a playoff team two years ago? Remember all the fun "Fear the Deer" stuff? It looks like it's going to be back to the lottery for this group.
Brandon Jennings
' improvement is a plus, but the
Stephen Jackson
situation combined with injuries is dragging them down.
GRADE: C+


Detroit Pistons (11-23)
The Pistons are playing much better basketball as of late, winning seven of 10. But still this has been another colossally disappointing season. Remember how the Pistons were once a team contending for the East? You know what's weird about that? That was happening as of just five years ago. But it feels like the Pistons have been bad for a long time. That's where it's at for Detroit. Save for a better stretch early on, it's been another bad year for the Pistons. Horrible attendance, fan apathy and worst of all, there really doesn't appear to be a path out right now.
GRADE: D
Southeast Division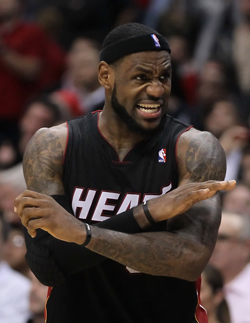 LeBron looks like a solid MVP favorite so far for Miami.
(Getty Images)
by Matt Moore

Miami Heat (26-7)


The best team in efficiency differential. Home of the presumptive MVP. They have just finished winning seven in a row, all by double-digits. The best record in the National Basketball Association. A better offense than last season. The same quality defense as last season. Better supporting players. Quality wins over the
Lakers
, Bulls,
Magic
. The Heat aren't surprising anyone; we knew they would be, could be this good. But they're doing it, and that's a fact.
GRADE: A
Orlando Magic (21-12)
Well, they've handled this whole mess surprisingly well. As
Dwight Howard
rumors continue to swirl and he's forced to endure media questions everywhere he goes, the Magic have kept on winning with the same formula they've won with for years. Great defense, three-point shooting, and Dwight Howard offense. The dual-losses in five days to Boston in humiliating fashion should have sent the team into a tail spin. But instead they've kept themselves above water. There are rough times ahead for this team one way or another, but you have to give them credit for how they've survived a tough situation.
GRADE: B
Atlanta Hawks (19-13)
The Hawks are six games over .500 despite starting the year without
Kirk Hinrich
, and being without
Al Horford
for most of the season as he's done for the year. That should be pretty good, right? They have wins over the Bulls and Heat. That should be enough for a good grade, right? Except you know where the Hawks are going. They're not the most talented kid in class, they're not the hardest workers. They just kind of glide by. You can't fail them, but to reward them is to celebrate being "fine." You can't fault their coaching or players. They just are who they are, as cliche and meaningless as that seems.
GRADE: C+
Washington Wizards (7-25)
Well, their coach was fired, their star center runs the wrong way on possessions, their star point guard hasn't developed, and they had to bench their starting power forward they gave an extension to two years ago. So no, it has not gone well in D.C.
GRADE: D-
Charlotte Bobcats (4-27)
Mrs. Charlotte fan, I'm sorry. I know this is difficult to hear. We did everything we could, but we had to put your franchise down. This team is a plague on the NBA season.
GRADE: F
Southwest Division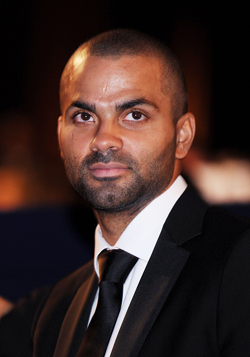 Tony Parker is playing like a top-5 MVP candidate.
(Getty Images)
by Ben Golliver

San Antonio Spurs (23-10)
The Spurs went a ridiculous 13-3 in their second quarter, and that includes an on-purpose loss to the Portland
Trail Blazers
on Tuesday night, as Gregg Popovich opted to rest his starters. Does it get better than an 11-game winning streak when one of your All-Stars is in and out of the lineup with long-term injuries? That's a stupid rhetorical question. It doesn't get any better. The Spurs have pulled within 2 1/2 games of the Oklahoma City
Thunder
and are well positioned to finish strong, with 19 home games and 14 road games remaining on their schedule.
GRADE: A
Dallas Mavericks (21-12)
Like the Spurs, Dallas got up to speed during the second quarter, going 11-5 and running off an impressive 6-game winning streak, which included 4 wins over playoff teams (the
Nuggets
twice, the
Clippers
and 76ers) and 2 others against teams on the fringes (the Blazers and
Timberwolves
). Dallas is still underperforming on offense but no one saw a top-5 defense coming when Tyson Chandler moved to the Knicks in December.
Dirk Nowitzki
's numbers are essentially back to normal in February -- 23.8 points and 8.0 rebounds per game -- and the Mavericks look to be a playoff force as they defend their 2011 title.
GRADE: A-
Houston Rockets (19-14)


The USS Houston is steady as she goes: The Rockets went 9-7 in the first quarter and 10-7 in the second quarter.
Kyle Lowry
has made the whole thing work and
Kevin Martin
has stayed healthy. The roster is deep, random and likely to see major changes this summer. Despite all of that, Houston is squarely in the playoff picture when another lottery trip seemed inevitable after December's failed trade for
Pau Gasol
fell through. If this continues, Kevin McHale might sneak into the short list for Coach of the Year candidates in his first season with the Rockets.
GRADE: B+
Memphis Grizzlies (19-15)
The Grizzlies were a late-charging dark horse last season and it's shaping up again this time around, as
Zach Randolph
is progressing back to the court after a knee injury. Memphis' offensive efficiency has fallen off significantly without Randolph, and Lionel Hollins has done another nice job in keeping the wheels from falling off after a hectic early season. Credit, too, to an All-Star campaign from
Marc Gasol
, who is averaging 15.0 points, 10.1 rebounds and 2.2 blocks per game.
GRADE: B+
New Orleans Hornets (7-25)
That this team has won seven games is a miracle. Monty Williams, one of the league's biggest gentlemen, must have done some serious wrongs in a past life to deserve this group. He's made due the only way he really can, sucking the life and pace out of every game and hoping for the best.
Gustavo Ayon
was an intriguing find but this team was not headed anywhere with
Eric Gordon
, let along without him due to injury. It's probably time for New Orleans to step up its tanking efforts to ensure a top-2 chance at the lottery balls. Leaving this season without that would be a major failure.
GRADE: D
Northwest Division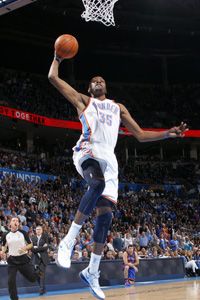 Durant's Thunder have been dominant in the West.
(Getty Images)
by Matt Moore

Oklahoma City Thunder (25-7)
Kevin Durant
is having his best season as a pro, and it shows. His defense has been terrific. There are lingering questions about this team's ability to defend, but their offensive is the most powerful in the league and they've managed to stay exceptionally healthy this season. The West may be largely a crapshoot this season, but the Thunder are still the prohibitive favorites to make it to the Finals. Their late-game execution has been a mixed-bag, but that's still better than the circus clown show it was last year.
GRADE: A
Denver Nuggets (18-15)
There's something dark and twisted about a team that deliberately loaded up on excessive depth through trades and free agency winding up one of the most damaged by injury. The Nuggets have had Nene,
Ty Lawson
,
Danilo Gallinari
, and
Arron Afflalo
miss time with injuries and it dropped them into the gutter after an exceptionally strong start to the season. Outside of health, the biggest problem for Denver has been what you'd think it would be, the lack of a star player to lead them in close games. Someone has to step up and become the guy for Denver in the playoffs for them to have a chance at making any noise.
GRADE: B-
Portland Trail Blazers (18-16)
Things started so well, too. After getting out to an awesome start and looking unstoppable, versatile, and deep, everything has fallen apart for the Blazers. Nate McMillan's on the hot seat all of a sudden, the team is just two games over .500 (and one of them was the Spurs' surrender game Tuesday). They're not doing anything particularly well,
Raymond Felton
has been benched, and they're having nagging injuries. all over the place. It was a rough second quarter of the season for Portland.
GRADE: C+
Minnesota Timberwolves (16-17)
Well, well, well. Look who got themselves a legit coach and a franchise point guard. Rick Adelman's work with the Timberwovles has made the biggest impact, but
Ricky Rubio
's playmaking and defense has helped change the vibe. The Wolves are excessively fun to watch, a highlight factory, and feature
Kevin Love
's All-Star blistering work offensively. The Wolves can't quite get themselves into that 8th spot, but don't be surprised if they somehow sneak their way into the postseason.
GRADE: B-
Utah Jazz (15-16)
The popular analogy with teams like this is a rollercoaster but I like to think of the Jazz more as a boat that keeps tipping with the tide and the wind. Everyone rushes to one side of the boat, vomits, then gets thrown to the other side. Are they a good team? They can be, from time to time. Are they a terrible team? They can be, from time to time. There's no figuring out the Jazz. They're a young, inconsistent team, and those kinds of teams usually tail off as the season goes on.
GRADE: D+
Pacific Division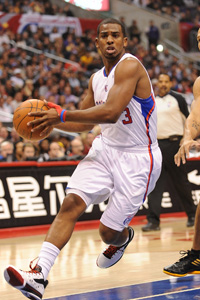 Paul has the Clippers out to a faster start than the Lakers, barely.
(Getty Images)
by Royce Young

Los Angeles Clippers (19-11)
Blake Griffin
changed the game for the Clippers. It started last season with the crazy dunks and high-flying highlights, but quietly, the Clippers had a solid second half. Then they got
Chris Paul
before this season and boom, they're a top team in the West. How have they handled that hype and expectation? Pretty darn well, I'd say. And they've even endured a major injury to a key player. I don't know if the Clips are set up to really challenge in the Western Conference playoffs, but the point is, they will absolutely be there and probably sitting as a top four seed. Think about that.
GRADE: A
Los Angeles Lakers (19-13)
There was a pretty unsettling tone set about this Laker season before it even started.
Lamar Odom
and Pau Gasol were traded, and then untraded by David Stern. Then Odom was traded for basically nothing. And Kobe hurt his wrist. The front office might be in shambles, players might be unhappy with Mike Brown and there's a lot of uncertainty around the roster only except for No. 24. They're still in the thick of things, but it's hard to see this team moving forward until whatever is looming around the roster, finally happens.
GRADE: C+
Phoenix Suns (14-19)
There's a catch 22 with the Suns.
Steve Nash
continues to defy common sense by playing some of his basketball at age 38. But what that's done is make the Suns competitive, meaning they will likely miss out on a top five pick and Nash will remain as part of the roster instead of the front office blowing it up. The Suns are stuck in a state of mediocrity. Maybe they're fine with that, but this team is just two years removed from the Western Conference Finals, but that seems so, so far away.
GRADE: C-
Golden State Warriors (12-17)
For a brief second, it really seemed like the Warriors were ready to turn a corner. They had won three straight heading into a showdown with the West's best, the Thunder. And then OKC completely humbled them in a three-quarter blowout. Mark Jackson wanted to install defense and while they're a bit better, they aren't winning more.
GRADE: D+
Sacramento Kings (10-22)
I bought into a little preseason hype around the Kings. The talent seemed to be in place for them to finally make a step forward. There have been some flashes like a national TV win over Oklahoma City, but for the most part, it's just another Sacramento season. Paul Westphal got fired,
DeMarcus Cousins
had an issue again and
Jimmer Fredette
hasn't produced much buzz or points so far. And their arena situation and future in the city is still way up in the air.
GRADE: D