Posted by
Ben Golliver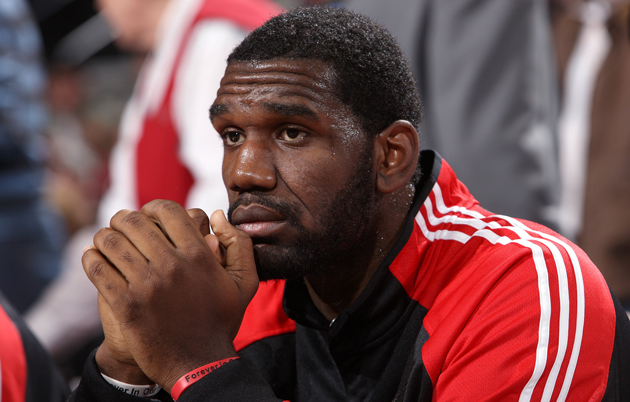 After a third microfracture surgery, Blazers center Greg Oden faces a future that is as uncertain as ever.
(Getty Images)
PORTLAND, Ore. – There's plenty of sadness and disappointment, but no self-pity, and, still, absolutely no admissions of regret.
Portland Trail Blazers center Greg Oden went into an operating room in Vail, CO., on Monday, hoping that his left knee, which had been operated on twice previously in the past 26 months, would need only an arthroscopic procedure to clean up some loose debris
Instead, he emerged from the anesthesia to significantly worse news: the surgeons had decided that the articular damage in Oden's left knee was so significant that it required the dreaded microfracture procedure. Instead of the medical version of a speed bump, he was now looking at a totaled car. Instead of being able to hold out hope, however slight, for a longshot return to the court this season, his 2011-2012 season was officially over.
The No. 1 overall pick in the 2007 NBA Draft, the man who will forever be remembered as the player who went before Oklahoma City Thunder All-Star forward Kevin Durant, was back in a familiar place: at the very beginning of a long, arduous rehabilitation process. Oden woke up to the reality of a 12-month recovery timeline from microfracture surgery, a grueling rehabilitation that he had endured twice before, once after a 2007 surgery on his right knee and once after a Nov. 2010 surgery on this same left knee.
This time, though, he has no idea if he will be employed come July 2012, when his one-year contract runs out and he becomes an unrestricted free agent. For the first time since the Blazers selected him in 2007, Oden even faces the prospect of being released outright by a team that has remained endlessly loyal as he's missed the equivalent of four of his first five seasons in the league. With three microfracture surgeries, a fractured left patella and a February arthroscopic procedure on his right knee now in his past, the chances that he is ever able to step foot on an NBA court have never been smaller.
Despite the five knee surgeries, Oden has banked more than $23 million despite playing just 82 total regular season games and he has outlasted the GM who drafted him, Kevin Pritchard, and the GM who followed Pritchard, Rich Cho. The Blazers have not appointed a full-time replacement for Cho, who was fired last May, but Chad Buchanan, the team's Director of College Scouting, has been named Acting GM for this season.
Buchanan, then in his mid-30s, was present in the 2007 war room, when the 7-foot center out of Ohio State had just finished leading the Buckeyes to the NCAA title game and promised to help a team that had fortuitously jumped up the lottery ladder to earn the right to choose between him and Durant.
Buchanan, speaking at the team's practice facility on Monday afternoon, told CBSSports.com that he remembered the phone call declaring the team's intention to select Oden was being placed to NBA commissioner David Stern, thinking that the team's braintrust was in the process of acquiring a title-delivering talent.
"I was very excited," he said. "A chance to draft a player who could potentially get your franchise to your ultimate goal. Looking back on it, we were all excited. We had visions of Greg being a great player for us for years to come."
As Oden has been sidelined, Durant's star has soared faster and higher than even his biggest pre-draft proponents expected. Rookie of the Year, 3-time All-Star, 2-time scoring champion, MVP candidate, plus a trip to the 2011 Western Conference Finals and the promise of future postseason success.
But just like his predecessors and Blazers president Larry Miller before him, Buchanan said that he still stands by the team's selection of Oden over Durant.
"Looking back on it, I would still draft Greg," he said. "Hindsight, it's easy to make an assumption [now]… You can't predict the injuries that would come. Going back on it, I wouldn't have changed anything in drafting Greg."

Asked if the decision was unanimous among those in the room, Buchanan politely declined to reply.
At the time, there wasn't much of a debate across the city: a vast majority supported selecting Oden. "Even Caveman Knows: Pick Oden," read the headline of one letter to the editor that was published in the June 17, 2007, edition of The Oregonian. "Oden Possesses Championship Aura," read another.
Blazers fans these days are an emotionally exhausted house divided. Many understand the logic and thought process that went into the pick. But many others responded to Buchanan's "I would still draft Greg" quote on Monday night by calling for his job. Some can't get past the Greg Oden and Sam Bowie comparisons. And others, even in notoriously polite Portland, have gone as far as to boo Oden when he is shown on the jumbotron at the Rose Garden.
"I know Greg as a person," Buchanan said. "To hear people [boo him], it hurts a little bit. It hurts more for Greg… Greg is frustrated but this is stuff that is out of his control. It's unfortunate that it's happened but it has happened. No one wants to be out there playing more than Greg does."
That desire to play has been consistent over the years, but it hasn't been enough. The body simply hasn't been able to withstand the rehabilitations. Somewhat amazingly, Oden is currently recovering from two knee surgeries and also was dealing with blood clots in his left ankle that, Buchanan said, delayed Monday's surgery and could have ended Oden's 2011-2012 season even if the microfracture surgery hadn't been deemed necessary.
It's been that way, one thing after another, for most of Oden's nearly five years in Portland. For now, the Blazers say no further surgeries or procedures are expected prior to Oden becoming an unrestricted free agent this summer.
"Nothing planned," Buchanan said, before catching himself and deciding it might be better to not shut that particular door. "Barring something coming up again."
Oden's introduction to the city of Portland was pure hysteria. Thousands of fans packed a downtown square, cheering so loudly and for so long that Oden felt compelled to bow to them. He was on national magazine covers, on billboards around the city, at annual awards shows and in major ad campaigns.
Months later, his rookie season would be lost to a microfracture sugery on his right knee. Diligent updates on his status were provided on a blog on the team's website, and he made a full recovery, playing in 61 games the following year, 2008-2009, and 21 games in 2009-2010.
He was never the same player, exactly, but he showed flashes. Despite playing limited minutes, Oden averaged nearly a double-double in his third season, at age 22, and was among the league's leaders in player efficiency, thanks to his 60.5 percent shooting and offensive rebounding ability. He averaged more than two blocks a game during that season, hinting at the franchise-changing talent that Buchanan and company had expected.
Then, on Dec. 5, 2009, Oden leapt to contest a shot during a home game against the Houston Rockets, only to have his left leg give way beneath him. Observers compared it to an explosion or an implosion, and Oden collapsed to the floor immediately in agony, as teammates, competitors and fans turned away from the scene and medical staff ran at a full sprint to his attention. After the game, an emotional Pritchard delivered the news while holding back tears: Oden would be lost for the rest of the season.
807 days later, Oden hasn't played in an NBA game since.
Nearly a year into Oden's rehabilitation from the fractured patella suffered on the play, the Blazers announced that he had experienced some discomfort after working out before a game against the Lakers in Los Angeles. At a solemn press conference with the city's entire media corps present, Blazers trainer Jay Jensen described the Nov. 2010 day that an MRI revealed the need a microfracture surgery on Oden's left knee.
"Dr. Roberts pulled up the picture of Greg's knee on the screen and Greg didn't know what he was looking at," Jensen said. "But Dr. Roberts did and I knew what to look for too, and there was the defect in his articular surface of his left knee. We sat there and it was like we got kicked in the stomach. We all felt like we had just been told that somebody close to us had died. It felt that way. We didn't know what to say. We were shocked."
That surgery ended Oden's 2010-2011 season before it started. Despite the lockout, Oden was not ready to participate in Portland's 2011 training camp, and the team announced in December that he had suffered a "setback" that made a return to the court during the 2011-2012 "less likely."
When doctors went in to operate on Oden's left knee on Monday, they discovered two similar defects, according to Buchanan. They then made the decision to go ahead with a second microfracture surgery, an option that Oden had been aware was a possibility before he was put under with anesthesia.
"He's obviously disappointed," Buchanan said of Oden. "But he's been through it before... His other microfracture procedures have healed fine and hopefully he can do it again."
The doctors have not yet officially deemed this a career-ending surgery and Buchanan reminded reporters that Oden, who just turned 24 in January, is "still very young" for a basketball player. But, asked two separate times if, in a best case scenario, Oden could receive medical clearance to play basketball at some point in the future, Buchanan hesitated and eventually refused to answer affirmatively.
"[That's] anybody's guess," Buchanan said at first.
"I couldn't give you that answer today," he added later. "I would have to have a further in-depth conversation with the doctors."
Asked if Oden still had the desire to return to the basketball court, Buchanan said: "That's tough for me to say. Greg has shown a lot of perseverance to get where he's at now. This is obviously another big hurdle for him."
Oden's future playing basketball isn't the only thing in question.
Since the team's Media Day in 2010, Oden has not faced questions from the local media and, unlike during his rookie season, there have been very minimal health updates. Oden has now undergone three surgeries, two of them season-ending, without taking questions. With just months remaining on Oden's contract with the team, and with the very real possibility that Oden is released to create a roster spot or potentially traded before the end of the season, there are no indications Oden plans to break his silence any time soon.
"I understand people want to hear from him but he's in a tough spot having to go through what he's gone through," Buchanan said. "He's an outgoing person but he's also a very private person, that's how he's chosen to deal with this."
So what's he been up to for the last two years? It's not entirely clear, but Buchanan did shed some new light on Oden's rehabilitation process.
"He's gone through various drills at practice, nothing live," Buchanan said. "He's gone a little bit of changing ends of the floor, a little of light jumping, a lot of shooting. He's had some ups and downs from when he first came back from the lockout. He's had good days and bad days."
Good days and bad days, sure, but was he ever actually close to getting back on the court?
"It's tough to say how close he was to coming back," Buchanan acknowledged. "He still had some progress to make."
Oden's most recent rehabilitation, from the Nov. 2010 microfracture, was even more complicated than the previous rehabilitation following the patella fracture.
"On this one he had a little more swelling that he was dealing with [once he] increased activity," Buchanan said. "Before, he had more pain. It was a little different circumstance for him [this time]."
The swelling was ultimately what led to the decision for doctors to decide to proceed with plans for the arthroscopic procedures on both knees.
"There were days when you watched him out here and it was encouraging and there were other days where you could tell that it was bothering him," Buchanan said. "That's part of coming back from that procedure and when you've come back from a couple of those you're going to experience more of those ups and downs that he was experiencing this year."
Only with Oden can the casual phrase "a couple of those" refer to microfracture surgeries. But that's his incredibly sad reality.
Instead of competing for a title, the Blazers have yet to advance out of the first round of the playoffs during Oden's tenure, and they currently sit outside the Western Conference playoff picture, looking up at Durant's Thunder, co-owners of the league's best record. Less than 24 hours before Oden's most recent surgery, Durant scored a career-high 51 points; hours after the microfracture announcement, the Blazers were creamed by the Los Angeles Lakers, managing to score just 7 points in the first quarter.
This year's loss of All-Star guard Brandon Roy, also to repeated knee surgeries, has a huge hand in the franchise's swinging fortunes, but so too does the invisible and often forgotten Oden, given how much, emotionally, financially and strategically, the Blazers invested in him.
Despite nearly five years of dealing with a decision that changed the court of the franchise, Buchanan stressed that, now more than ever, the story is about Oden and not his franchise.
"Nobody in this league is feeling sorry for us and we're not going to feel sorry for our situation," Buchanan said.
The game will go on immediately for the Blazers; another chapter in an endless rehabilitation, or retirement, are Oden's only options now.
"[Basketball] is what Greg loves to do," Buchanan said finally, before leaving the practice facility to find rain coming down by the bucketful. "To have that taken away from him has been very difficult for him… At the end of the day, Greg is a human being who has been through a lot. You have to have some compassion for him."