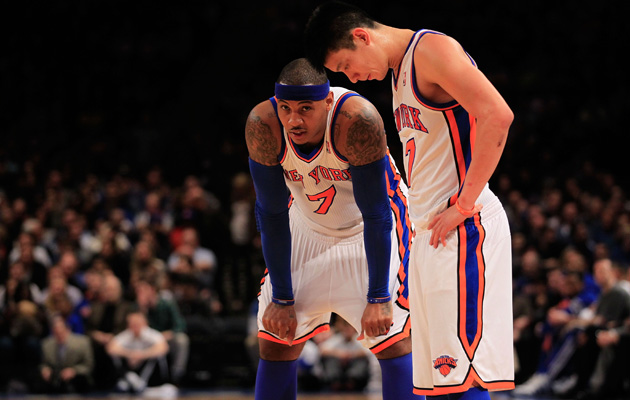 Carmelo Anthony returned to the Linsanity but the Knicks lost to the Nets. Can they co-exist?
(Getty Images)
By Matt Moore
In a seasony as jam-packed with storylines as this one, you knew it had to happen like this. The Jeremy-Lin-lead Knicks played their first game with
Carmelo Anthony
back in the lineup after a five-game absence, with
Amar'e Stoudemire
, Melo,
Baron Davis
, and
J.R. Smith
all on the active roster, and of course, they lost. To the Nets. At home.
Deron Williams
, who was the player victimized when Linsanity started, made it his own personal mission in life to shut down, discourage, and otherwise outshine Lin on his way to 38 points and six assists. You can
read more about Williams' vendetta
from Ken Berger of CBSSports.com. But of particular interest long-term for the Knicks, Ken Berger spoke with a scout at Madison Square Garden who had this to say about how Melo fits into Mike D'Antoni's system which has flourished with Lin running the show.
Straight from a scout who has watched Anthony's career extensively, here are the issues: Anthony and Stoudemire like to operate in the same area of the floor, and that's something D'Antoni has to figure out regardless of who the point guard is. The way Lin has played for the first 11 games of this run, it will be easier for him to figure out than it was for any of the other point guards the Knicks have tried.

Here's the other, and perhaps more important issue: Anthony likes to set up and call for the ball in an area that is between the low block and the 3-point line, a little wider than most mid-post isolation scorers want the ball. Anthony has been effective his entire career from that area, because he has so many options from there. But he also takes up a lot of space, thus killing the corner 3-pointer – so crucial to D'Antoni's style – on that side of the floor, and also crowding out the pick-and-roll and wing penetration. One game is a little soon to call it a failure, though I'm sure that won't stop it from happening.

"We are not in panic mode," Lin said. Now, back to the real star of the show.
via
Against Lin, D-Will restores sanity - CBSSports.com
.
Here's what that scout's talking about, from Anthony's shot chart for 2-point jump-shots this season with New York,
courtesy of Pro-Basketball-Reference.com
:
Melo was just 4-11 Monday night, and there were two big caveats to this performance. His first game back from injury and you know there is going to be rust. Second, the Knicks have so many players who weren't playing together a month ago, there's a huge challenge for them to figure out the offense. For reference, here's what Melo's night from the floor looked like. You can see even in a tiny sample size that extended elbow effect.
So you can see what the scout was talking about. If you want an idea of the impact on the corner three, again, in a tiny sample size, or at least an idea of the difference in success for the Knicks when they turn to the corner three versus other options, here's a look at Sunday's shot chart versus the
Mavericks
. check the corner threes:
Now observe the chart and corner threes against the Nets:
Clearly the Knicks didn't produce as many corner three attempts or makes. Whether that's a product of Anthony or not is a complicated question with an unclear answer. But the results in a win and loss and three-point production do lead you in a direction of concern, though not something that can't be resolved easily with more time together for this group of players.
Maybe most interesting was twice when Melo's penetration lead to buckets for Lin, once on the perimeter and once on a catch-pump-and-drive. So there are signs that this can work between the two. Amar'e Stoudemire looked better in this game, more active and aggressive, though he wound up with as many points as shots for what feels like the 20th time this season (in reality it was his tenth of 27 games).
If anything Anthony seemed to be trying to make a point by passing, forcing up six turnovers and trying to create for Lin and everyone. Anthony is a scorer, but if he shoots, he'll be criticized. As it stands, he passed, so it's difficult to criticize him for it. It'll take time to figure out where to start from, where to finish, and how to manage Lin as Lin learns to manage him.
Maybe more concerning than the Knicks' offensive effort were the problems of the Knicks systemically and Lin individually to contain Deron Williams. Williams is an elite player, and it's too much to ask Lin as young as he is to be an elite defender, but that was certainly more to blame than the Knicks' offensive issues.
New York is a work in progress. The problem is that it takes time to figure out all their new parts and how they figure together.
As someone famous said,
they don't have time
.