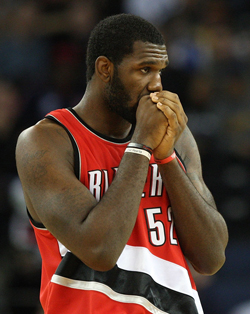 Greg Oden underwent a second microfracture surgery on his left knee.
(Getty Images)
Posted by
Ben Golliver
It's been just under five years since the Portland Trail Blazer made center Greg Oden the No. 1 pick in the 2007 draft. On Monday, Oden underwent his fifth knee surgery during those five years, and it was worse than expected.
On Monday morning, the Blazers announced that Oden would undergo an arthroscopic procedure on his left knee in Vail, Colo. Instead, Oden underwent a second microfracture surgery on his left knee and his 2011-2012 season is officially over. He had previously been listed as "out indefinitely."
The procedure was performed by renowned surgeon Richard Steadman, who has operated on numerous professional athletes.
"Initially, Greg was undergoing a procedure similar to the one he had a couple of weeks ago to have debris cleared from his right knee," said Acting General Manager Chad Buchanan . "However, once the doctors were inside Greg's left knee, they unfortunately found articular surface damage and determined microfracture was necessary."

Oden, who will become an unrestricted free agent at the end of this season, was selected by the Trail Blazers with the first overall pick in the 2007 NBA Draft. In 82 career games (60 starts), Oden has averaged 9.4 points (57.7% FG), 7.3 rebounds and 1.43 blocks in 22.1 minutes per game.

"This is not the news we were hoping for Greg or the organization," said Trail Blazers President Larry Miller. "It's hard to put into words the heartbreak for everyone involved, but especially for Greg. He's a young man who has experienced a great number of physical challenges in his playing career and today is yet another significant setback for him. We have a lot of empathy for Greg and his family during this difficult time."
A microfracture surgery typically has a one-year rehabilitation timeline.
This procedure marks the third time Oden has had surgery his left knee. He had left knee surgery in Dec. 2009 after fracturing his patella and he had microfracture surgery in Nov. 2010 to address an injury suffered during his rehabilitation process.
Prior to undergoing the arthroscopic procedure on his right knee earlier this month, Oden had microfracture surgery on that knee in Sept. 2007.
Oden, 24, has played in 82 career NBA games, averaging 9.4 points, 7.3 rebounds and 1.4 blocks per game.