Posted by
Ben Golliver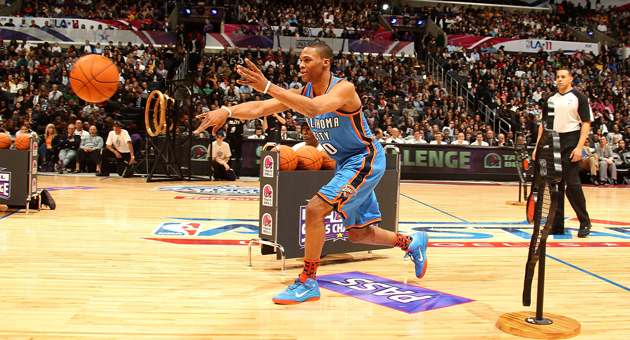 Russell Westbrook shows off his skills during the 2011 Skills Challenge.
(Getty Images)
Wow! Did you just see him dribble around that cone?
On Monday, the NBA announced the field for its annual Skills Challenge, a pointless and confusing event in which players dribble and their pass their way around the court in a timed competition. The Skills Challenge annually serves as a prelude to the Three-Point Contest and Slam Dunk Contest on All-Star Saturday night. This year's group is made up entirely of point guards, including three All-Stars,
Tony Parker
(San Antonio
Spurs
), Russell Westbrook (Oklahoma City
Thunder
) and Deron Williams (New Jersey
Nets
), two participants in the Rising Stars Challenge,
Kyrie Irving
(Cleveland
Cavaliers
) and
John Wall
(Washington
Wizards
), and defending champion
Stephen Curry
(Golden State
Warriors
).
Here's the full explanation of how this event works.
The Taco Bell Skills Challenge was introduced at NBA All-Star 2003 in Atlanta and features six players competing in a two-round timed "obstacle course" consisting of dribbling, passing and shooting stations. All players must observe basic NBA ball-handling rules while completing the course. The three players with the fastest times from the first round advance to the finals with the order of competition determined by inverse order of the first round times. At the discretion of the referee, television instant replay may be consulted for clarification of rules compliance.


The Taco Bell Skills Challenge will be televised live nationally as part of the NBA All-Star Saturday Night. Coverage will begin at 7 p.m. EST from Amway Center in Orlando.
The key components to winning the Skills Challenge are precision and actually giving a (bleep). That tends to favor the younger guys.
Last year, Curry finished first, Westbrook finished second and Wall finished fourth. Williams won the Skills Challenge in 2008. None of the other participants are past champions.
One interesting note: this year's field includes the NBA's top-3 turnover-generating players: Westbrook, Wall and Williams. Irving is No. 13, Curry is No. 18 and Parker is No. 37.
Handicapping this thing is the definition of a fruitless exercise, but a repeat performance from Curry or a debut victory from Irving would probably be this year's least shocking results.