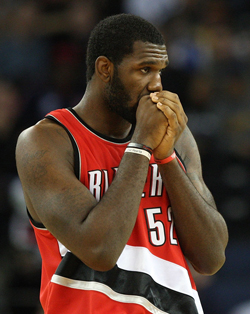 Greg Oden will undergo yet another knee surgery.
(Getty Images)
Posted by
Ben Golliver
It's been just under five years since the Portland Trail Blazer made center Greg Oden the No. 1 pick in the 2007 NBA Draft. On Monday, Oden is set to undergo his fifth knee surgery during those five years.
The Blazers announced on Monday that Oden will undergo an arthroscopic procedure on his left knee in Vail, CO. Oden has not appeared in an NBA game since December 2007 and there is no timetable for his return.
Monday's surgery was expected.
Back on Feb. 3
, Oden underwent the same arthroscopic procedure on his right knee and Blazers Acting GM Chad Buchanan said at the time that doctors wanted to address his left knee as well.
"He's still considered out indefinitely," Buchanan told CBSSports.com at the time. "Having this procedure on the right knee and the possibility of his left knee doesn't increase the likelihood of him playing soon."
This procedure and marks the third time Oden will have surgery on his left knee. He had left knee surgery in Dec. 2009 after fracturing his patella and he had microfracture surgery in Nov. 2010 to address an injury suffered during his rehabilitation process.
Prior to undergoing the arthroscopic procedure on his right knee earlier this month, Oden had microfracture surgery on that knee in Sept. 2007.
In a statement
posted on Facebook
earlier this month, Oden said he would continue his rehabilitation.
"I'm sure you've all heard the news by now that I'm having a scope on my knee today," the statement read. "Unfortunately after months of intense rehab and training, the doctors discovered that a scope is necessary at this time. Thankfully this should be a quick recovery and I'll be back to training soon. I'm committed as ever to doing everything and anything to get back on the court and be a part of the team's success."
Oden, 24, has played in 82 career NBA games, averaging 9.4 points, 7.3 rebounds and 1.4 blocks per game.