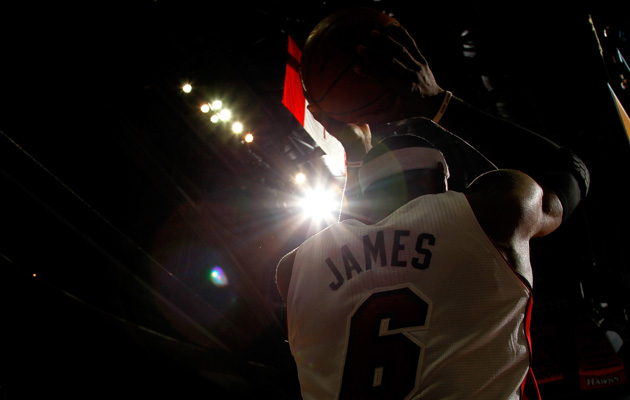 LeBron James is having one of the best seasons of his career and is the midseason NBA MVP.
(Getty Images)

By Matt Moore
The 2012 NBA All-Star break begins this week as this season continues to fly by on a shortened lockout schedule. Already we've seen an incredible year, even in the midst of some ugly, ugly, ugly basketball. The
Heat
look better than ever, the
Bulls
are still dominant through injury, the Sixers are impressively complete. The
Dwight Howard
saga drags on. The
Lakers
and
Celtics
are struggling to find their dominant gear. The
Thunder
are blistering offensively, the
Timberwolves
surprising and of course,
Jeremy Lin
, Jeremy Lin all the time.
With that, here are the 2012 NBA Midseason Awards, based on where we stand on February 20th, 2012.


Eastern Conference Most Valuable Player: LeBron James
When
CBSSports.com's Gregg Doyel wrote
that LeBron was different this year, he was spot-on. James has talked about how he spent the summer re-discovering his love of basketball, getting away from all the criticism, and getting back to the person he wants to be. He and the Heat have admitted that the resounding backlash to "The Decision" played a large part in their mental approach to last season. In short, James is not comfortable being bitter, angry, resentful. He's at his best when driven by a simple love of the game. That's the dichotomy with James. He is inarguably the single most arrogant and out-of-touch player in the Association, and yet he does possess a genuine love of basketball. It's always playing at his home. It's something he lights up when he gets to talk about instead of storylines. Basketball came easily to James athletically, but it's also something he works obsessively at. History teaches that you have to hate your opponent, have to be driven by anger and resentment. James is simply not built that way. In reality, he may be too goofy, too fun-loving to ever reach the kind of iconic play that is necessary to be considered one of the best, to have the killer instinct that so many criticize him for lacking, which he himself has admitted he may lack.
None of this changes the fact that there are only three things which can stop James from earning his third MVP this season, should he continue to play as he has for the first half of the year. The first is largely the same reason he failed to win it last season: vengeance. Voters showed their disapproval of James by not truly considering him for the award. Whether it was a distaste for the arrogance of James' approach to leaving Cleveland on national television, a disgust at the preseason championship comments at the presser with the smoke and fireworks, or disappointment with James seeking to team up with two great players instead of winning on his own (an element neither
Carmelo Anthony
nor
Chris Paul
have received criticism for), James was shut out, when by most measures, he simply played better than
Derrick Rose
. Rose was a phenomenal player last season and a wonderful story, well-worthy of the award. However, James was better. Those sentiments have cooled this season, but if voters decide to maintain their teeth-grinding disapproval of James, that could cost him. The second is simple injury. James has only missed a small handful of games, but that can always derail a player's path. And the third is the most likely impediment: minutes.
The Heat did not take the tactic of prioritizing homecourt last season. It wouldn't have mattered, the Bulls were simply better in every way during the course of the regular season. But the Heat were clearly more focused on being healthy for the playoffs than capturing homecourt. And it's likely to be the same this year. The Heat have managed to handle the compact schedule well, outside of some
Dwyane Wade
bumps and bruises as to be expected. But when March rolls around, this team will start looking for rest, and that means James could sit out several games. The Heat will happily trade in April wins, provided they have a top four seed, for rest. James could lose momentum in that case as he watches from the sideline and another worthy candidate pushes his way to the finish line.
What makes James worthy of the award this year? Pick one. The Heat are the best team in the East, and you may claim that Dwyane Wade is still the focal point of the offense, metrics be damned, and that's fine, but James' overall work on both ends of the floor still takes the notch. Without resorting to statistics, you see James take over games as if he's a one-man army. He's seemingly everywhere, interrupting passes, working in the post, snatching rebounds, blocking shots, lobbing to Wade, dishing to Chalmers, attacking the rim over and over again. It's awe-inspiring basketball. You don't need metrics to see he's the best player in the game this season. This is all factoring in the fact he's taken a step back defensively. He's turned it on the past five or six games, but this hasn't been a season of his usual defensive dominance... and he's still been this good overall.
But if you want them, they bear it out as well. James is enjoying a career high (tied) in points per 36 minutes, rebounds per game and 36 minutes, field goal percentage, True Shooting percentage (factoring 3-point shooting and free throws), and of course PER. The confusion with PER most often is that it somehow measures value, that it establishes how good a player is. Instead, it's just what it's defined as. Player Efficiency Rating. It establishes who produces the most per minute, considering how many possessions they use in doing so. And right now, James is doing the most of any player in history in that department.
So that's fun.
James may not win MVP this year, for a variety of reasons. But there is absolutely no question at this season's halfway mark, that he's the best player in the league, and most valuable.
Western Conference Most Valuable Player: Kevin Durant
If you prefer the classic mold of the MVP, AKA a scoring machine, Kevin Durant fits pretty well. He's a jump-shooter shooting 52 percent from the field. Think about that. The league average is 36 percent. Durant is hitting 15 more shots for every 100 attempts from the hardest place on the floor to knock them down. That's ridiculous. That's just absurd. He is the best pure-scoring machine in the league.
Kobe Bryant
may topple him for the scoring crown, but he'll need five to six more attempts to do so. The cherry on Durant's Sunday has to be his 51-point explosion Sunday night. He managed 51 points on 28 shots.
And really quietly, Durant's become an elite defender. He's allowing just 26 percent from the field in ISO situations according to Synergy Sports. Defense was a huge weakness in Durant's game over the past few seasons and he's really hit his stride this season. The Thunder aren't even that great defensively, Durant has just been individually incredible.
For him to catch James, he would need for the Thunder to continue their impressive winning percentage. He would need to top the league in scoring, and for his impressive uptick in rebounding rates to continue. It's a tall order, but there's no question he's within range. Durant has become the most impressive offensive force in the league.
He is 23 years of age.
Rookie of the Year: Kyrie Irving
Ricky Rubio
is dazzling. He's a phenom. He changes the course of games and wows you with the eyes. No rookie has impressed more than Rubio, who has silenced all his critics, of which I was very much one, regarding his ability translate his game to the NBA level. Rubio is honestly poetry in motion, and the feel he has for the game is joy-inspiring more than awe-inspiring. It is such a fluid and spectacular range of abilities, it makes the Timberwolves so much fun to watch.
And Kyre Irving is a better player.
It's not really close.
Get past the fact that Irving has been shooting at historic levels, that his overall production is in line with some of the all-time greats in this league in their first years. Irving has a mastery of the game that Rubio does not, even after so many more years of playing professionally. Irving can run an offense more completely and calmly, and is a superb crunch time scorer (Rubio is brilliant in that area in his own right). But if you want numbers, it's simple. Rubio's a 38 percent shooter. Irving is a 48 percent shooter. You can talk about how you would prefer your point guard pass than score, but Irving's numbers are truncated by a lack of talent on the
Cavaliers
, while Rubio has
Kevin Love
,
Michael Beasley
(a scorer for all his faults), an emerging Nikolai Pekovic and
Derrick Williams
.
Rubio would be a fine choice. He's the most exciting rookie. Maybe even the most impactful rookie.
Kyrie Irving is the Rookie of the Year, halfway through. This one will be tight to the finish.
Defensive Player of the Year: Andre Iguodala
I know. It's always Dwight Howard! It has to be Dwight Howard! But here's the thing. Howard's effort hasn't been as consistent this season. Whether it's the trade talk, the lockout schedule effect, coaching, whatever, it hasn't been there. His rebound rate is there, it's the highest of his career. He actually is allowing fewer points per possession than he did last year, but if we consider the lockout effects on all shooting percentages, Howard has slipped from the 96th percentile to the 77th percentile in rank on points per possession. Howard is maybe the most impactful defensive player in the league. But his performance hasn't been worthy of the award this year.
Iguodala, on the other hand, is the star defender on the league's best defense (Philly is tops in defensive efficiency, points per 100 possessions), and is most often given the toughest assignment night in and night out in this league. He is tasked with stopping the best perimeter threat on offense each game, and in doing so, has limited opponents to 35 percent shooting. He is able to body up larger opponents, stick with smaller ones, switch, shift, deter, block, steal, cajole, harass and otherwise make his opponent's life miserable and has done so for the majority of the season.
A close second on this list is
Luol Deng
, who actually has better marks via Synergy. But a combination of Deng's missed time due to injury, and the Bulls' reliance on help defense under Tom Thibodeau's system barely, and I mean barely, gives Iguodala the edge here. Dwight Howard will wind up winning this award, but ask yourself, is it more difficult to shut down perimeter elite scorers in this league or to stop the awful, horrible batch of big men currently roaming the lanes?
6th Man of the Year: James Harden
Harden should be starting. By any and all accounts, he is a much better player than Thabo Seofolosha, or
Daequan Cook
, or whoever you want to start at two-guard for the best offense in the land. Harden should be the starter, he plays starters minutes, he finishes like a starter, he's close with the starters, he's a star in his own right. And yet, he's much better off the bench. He provides the Thunder with not only a scorer off the pine, but an offensive creator, maybe his best asset. Harden can run the offense, he facilitates, and can make a play go even off-ball. He's a capable if not excellent defender, and his decision making and effort is often times the difference in close wins and losses for OKC.
This award has been wrapped up for a good long time.
Coach of the Year: Doug Collins
The Philadelphia
76ers
have the third seed in the East as of this writing, with signature wins over the Lakers, Bulls,
Magic
, and just about everyone not from South Beach. Doug Collins has managed to turn a team without a central star, without an Isolation scoring threat, without a dominant big man or an all-world point guard (no offense to the brilliant
Jrue Holiday
) into a powerhouse that overwhelms teams with defense, savvy, bench scoring, team play, and fortitude.
The players genuinely love to play for Collins and he's gotten through to them to a man.
Spencer Hawes
is playing well, for crying out loud.
Elton Brand
is producing. Iguodala is having the best overall season of his career by the eye test. They have the best defense, the best bench, the best record in a tough division. Collins has done an incredible job and is every bit deserving of this award as much for his process as the results it has garnered.
Most Improved Player: Jeremy Lin
What were you expecting? Usually second-year players are exempt in my eyes. They're supposed to develop and improve in their second season. But Lin is a special case. Lost in the Linsanity and all the great storylines surround him is the fact he has talked a lot about what the D-League did for him. This league too often doesn't allow players to develop, simply shreds them through and only the strong survive. Lin is a testament to the idea that players can develop, can improve, can learn this game and get better to the point of success. He's improved the most simply by making himself relevant, let alone raising New York from the dead for 15 percent of the season.