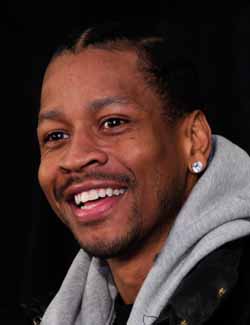 Allen Iverson, indoor soccer star? Not so much.
(Getty Images)
By Matt Moore
Well, if
Allen Iverson
's comeback attempt doesn't work out, it's good to know he's got options. The Major Indoor Soccer League's Rochester Lancers have offered The Answer a spot on their team.
The Rochester Lancers, of the MISL's top level of pro indoor soccer, today announced a contract offer to former NBA star, Allen Iverson.

The Rochester Lancers host two remaining regular season home games to conclude their season. The offer stands at $20,000 per game, with a bonus of $5,000 per goal scored, win bonuses, and merchandise bonuses. There are over 12 goals scored on average per game.

"Allen Iverson is one of the premier athletes of our time," said Rich Randall, Vice President of the Rochester Lancers. "With his athleticism and competitive hunger, I think he can be a great fit with our team and fans as we make an important playoff push, while also driving interest to an exciting, growing sport."
via
Rochester Lancers News | MISL PRO INDOOR SOCCER CLUB SENDS UNIQUE OFFER TO ALLEN IVERSON
.
$20,000 a game? Really? Because that's not bad, really. Iverson could work it into his stints with the NBA D-League he's talking about. Could play his way into shape, make some money...
OK, of course this is not going to happen.
But there's a reason they made this offer to Iverson and not
Kobe Bryant
. It's because it's within the frame of probability, as in "the odds you will have a piano dropped on your head today" versus Bryant which is more "the odds space clowns abduct you and transport you to their home planet where they worship Bob Netolicky." Iverson's desperate to get back into the pro game right now, trying to get back in the league. But, you know, the professional basketball league. Not so much with soccer. These minor league stunts are jokes, but this one just seems sad.
Steve Nash
, though? Nash might do it when he retires. Just becasue he's awesome like that.
Via Josh Hakala.