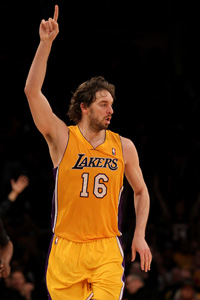 Pau Gasol has been the subject of trade rumors all season long in L.A..
(Getty Images)
By Matt Moore
Kobe Bryant
told reporters Friday that he believes the constant trade rumors surrounding
Pau Gasol
have negatively impacted him. From the Los Angeles Times:
Though it appears pointing out a discrepancy involves splitting hairs, Bryant believes reports linking Gasol in a trade has made it "an emotional couple of days for him."

"Personally I don't understand that crap," Bryant said regarding the Lakers' effort to trade Gasol. "But it is what it is. It's important for him to know we support him. I support him especially. I just want him to go out there and play hard and do what he does best for us."
via
Kobe Bryant: Trade speculation has made Pau Gasol emotional - latimes.com
.
Now that's nothing new, with Gasol having off-court issues affect his performance as they did during an understandably rough time in the playoffs last spring. But it is telling that both Bryant and Gasol are not denying that he's on the block or being shopped constantly. This is yet another impact of the vetoed
Chris Paul
trade and subsequent fallout.
The Lakers took a step backward when they were forced to trade
Lamar Odom
because of his sense of betrayal over being involved in the Paul deal David Stern vetoed. In order to overcome that, the Lakers are considering a trade, which will have to involve Gasol due to the low value of their supporting players, ownership's belief in
Andrew Bynum
, and the fact they have to trade for a significant upgrade at the star level and not role players support. So Gasol is discussed, and with media so prevalent, rumors get out, as well as I'm sure discussions being held with Gasol regarding this situation.
For his part, Gasol says things are not affecting him, that he's blocking it out and playing, and to be fair, his numbers aren't significantly down, outside of his field goal percentage which is below 50 percent for the first time in nearly a decade. But there's an impact, and it's continuing to keep the Lakers out of the elite tier of teams. Until this situation is resolved one way or another, Gasol will have to play through it.