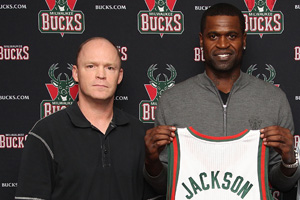 Stephen Jackson and Scott Skiles are not getting along in Milwaukee.
(Getty Images)
By Matt Moore
In news that will surprise exactly no one, Scott Skiles and
Stephen Jackson
are not getting along. Jackson was initially reticent about being traded to the
Bucks
, and has struggled mightily on the floor. It was thought Jackson's perimeter shooting and commitment to defense would be a perfect fit for the offensively inept Bucks, but the Racine Journal Times reports that things have already hit a pretty low point:
After Stephen Jackson was benched for the second half of a game against Denver Jan. 17, I asked the Bucks veteran swingman whether he had any inkling Bucks coach Scott Skiles was going to do that.

Jackson said he didn't get any advance warning and he didn't get any explanation after the game, either.

It was abundantly clear even then that Jackson, whom the Bucks acquired from Charlotte last June and was expected to be a key piece to the Bucks' puzzle this season, wasn't on the same page with Skiles.

Now, a month later, Jackson's relationship with Skiles seemingly has disintegrated. In an interview with Rod Burks of Channel 4 (NBC) in Milwaukee, Jackson said: "We don't have no relationship like I've had with other coaches and I don't expect to have one. Too much stuff has happened."
via
BUCKS BEAT: Jackson, Skiles are all business
.
Yeah, that's not good.
The
Warriors
were criticized for handing Jackson his last massive extension, the
Bobcats
were criticized for trading for that contract, and the Bucks were criticized for trading for that contract the Bobcats had traded for. That Jackson has seemingly fallen off the age cliff just makes matters worse. He's the worst kind of asset when he doesn't fit in with the team culture. He's an outspoken veteran who won't fall in line just to fall in line, who can be great in the right situation and terrible in the wrong, on a massive contract with years remaining and a declining skill set.
So, no, the Bucks will not have an easy time finding a suitor. That said, there's always someone out there looking for veteran scorers, and Milwaukee should definitely accept taking a bath on the investment in order to clear Jackson's money off the books. It wasn't a terrible idea to bring in Jackson, it just didn't work. Seems like so many ideas under the current regime in Milwaukee, unfortunately.