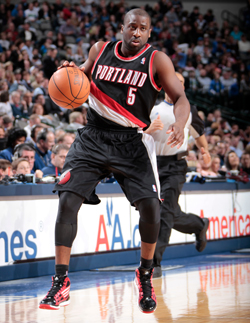 Raymon Felton said he isn't feeling his coach's trust.
(Getty Images)
Posted by
Ben Golliver
An ugly performance in an ugly game got even uglier when it came time for the post-game explanation.
The Portland
Trail Blazers
lost to the Los Angeles
Clippers
on Thursday night, 74-71,
in the definition of a "lockout game,"
and Blazers guard
Raymond Felton
was the worst of the worst. He shot 0-for-7 and committed five turnovers, playing just 24 minutes as coach Nate McMillan opted to sit him during the final stretches of the game.
It was arguably the low point of what has been a putrid first season in Portland for Felton, and his growing dissatisfaction came to the surface after the loss,
according to CSNNW.com
.
"I know I'm struggling, but it's hard to perform the way you know how when you know they don't have confidence in you," Felton told CSNNW.com. "Never in my days playing basketball, have I felt like a coach wasn't confident in my abilities. It's hard to play knowing that. Coming in and out of games is throwing my rhythm off, but it's something that I'll get through."

"Tonight was one of those nights where it was hard to get into the game knowing every mistake I made would be magnified," Felton said. "It's to the point where the only person I could turn to was my mom."
These aren't the first words reflecting a developing rift between point guard and coach. In statements made to the
Portland Tribune
earlier this week
, Felton compared McMillan to New York
Knicks
coach Mike D'Antoni, pointing out that players seem to perform better in D'Antoni's system. Felton, of course, played some of his best basketball in New York prior to the
Carmelo Anthony
blockbuster trade last season that landed him in Denver, who eventually traded him on to the Blazers on the night of the 2011 NBA Draft. The underlying implication from those comments, it seemed, was that McMillan's system was not as suited to producing success for Felton.
The real cause for Felton's frustration and isolation isn't complicated: by virtually every important measure he's having a terrible season. He's averaging a career-low 9.9 points per game, he's shooting a career-low 36.0 percent from the field, he's shooting a career-low 20.6 percent from beyond the arc, he's averaging 6.3 assists (the fewest since his rookie season).
According to HoopData.com
, his turnover rate is a career-worst 19.46 and,
according to Basketball-Reference
, he's attempted the most shots from 26 feet and out without making a single one (17) in the NBA this season.
Put it all together and you have one of the league's least effective players who actually gets big minutes. Felton has started every game so far for the Blazers this season, averaging 32.8 minutes per game. Felton's
PER is 10.06
, which places him as the No. 52 overall point guard in the league. Los Angeles
Lakers
point guard
Derek Fisher
is the only starting point guard with a lower PER than Felton, and he plays seven fewer minutes per game.
Taking this a step further, there isn't a single other NBA player averaging more than 30 minutes per game with a PER lower than Felton's. Indeed, he's one of just three players -- along with New York Knicks rookie guard
Iman Shumpert
and Detroit
Pistons
rookie guard
Brandon Knight
-- to average at least 30 minutes per game while producing a PER of less than 11.
If math isn't you're thing, the takeaway point here is this: through Portland's first 31 games, nearly half the season, Felton is playing at the absolute bottom of the barrel. And, the related point: he's had plenty of opportunities. Citing a coach's lack of confidence after that stretch of play -- and that much playing time -- is just about the most obvious buck-passing imaginable.
The Blazers must now decide whether to turn over the starting point guard duties to reserve guard
Jamal Crawford
, a score-first two guard by nature, or simply continue to limit Felton's minutes even further. With the All-Star break less than a week away and the trade deadline not far beyond that, there's no question they have to be fully exploring other options, even if that means over-paying for a stopgap solution. Playing in the NBA's toughest division, the Northwest, the Blazers are going to battle night in and night out with the Division's ninth best point guard as their starter. That's not a formula for a fringe playoff team that considered itself a contender earlier this season and wants badly to make a push.
The worst part of this situation is that there is no full-time GM to step in and smooth this one out. The Blazers continue to operate with a front office that includes president Larry Miller and Acting GM Chad Buchanan, after owner Paul Allen abruptly fired former GM Rich Cho last May. There's no full-time GM to back Felton in public. There's no full-time GM to act as intermediary between Felton and McMillan. There's no full-time GM to make the big-picture decision of how and when it's the right time to move on. There's not even a full-time GM to credibly explain the team's stance on McMillan, who is hearing some hot seat talk percolating with his team going 2-5 over their last seven games.
For everyone involved, the All-Star break can't come soon enough.