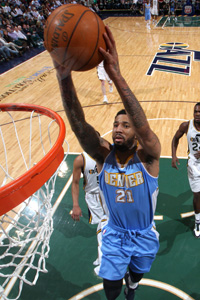 Wilson Chandler is reportedly headed back to the United States next week from China.
(Getty Images)
By Matt Moore
With
Kenyon Martin
and J.R. Smith back in the states and signed with new teams, Wilson Chandler and
Aaron Brooks
remain the last two NBA players to head to China during the lockout still yet to return to the league. But that could be changing quickly as ESPN reports that Chandler could return as soon as next week thanks to an agreement with his Chinese team to leave before his team's playoff run is over in the Chinese Basketball Association:
Denver Nuggets restricted free agent Wilson Chandler is scheduled to return to the United States from China sooner than expected, according to sources close to the situation, with next week as his target.

It remains unclear, though, how quickly Chandler will be allowed to follow through on his stated intention to re-sign with the Nuggets even if he does leave China in the next few days.

Chandler's Zhejiang Lions team starts a five-game playoff series next Thursday, but sources told ESPN.com that Chandler received the blessing of Lions management to come back to the NBA as soon as he helped the team clinch a playoff spot.
via
Sources -- Wilson Chandler set to return from China sooner than expected - ESPN
.
Chandler is
widely expected to return
to the Nuggets as a restricted free agent, whether on a long-term deal or just to finish the remainder of this season and enter unrestricted free agncy.
The Nuggets desperately need Chandler on roster as soon as possible, with a banged up club missing
Danilo Gallinari
with an ankle chip fracture and Nene among others missing time with injury. The wear and tear on Chandler from playing in the CBA is yet to be seen as is how he'll respond under this compacted schedule.
Denver is struggling right now, but with Chandler back and eventually Gallo, they should be able to gain some momentum headed into the playoffs as one of the deepest teams in the league.
Chandler still has to get FIBA clearance in order to play in the NBA, and that will only come once Chandler's CBA team notfies FIBA to do so. That could complicate when Chandler is eligibile to play, even if he's back in the states.