Posted by
Ben Golliver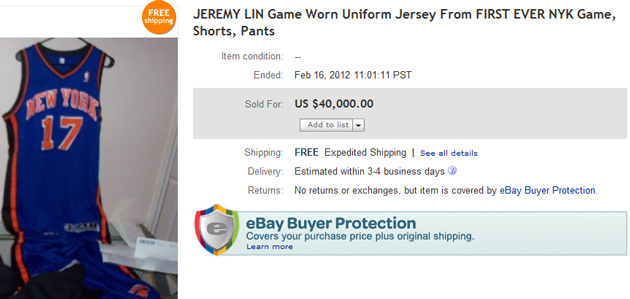 A Jeremy Lin Knicks jersey has reportedly sold on eBay for $40,000.
(Getty Images)
What Jeremy Lin is doing for the New York Knicks is indescribable. But you can put a price on it.
CNBC.com reports
that the jersey, shorts and warm-ups worn by Lin during his debut for the Knicks in December have been sold on the online auction site eBay.com for $40,000.
Here's the
description of the package
from the eBay seller, card77collector.
This game worn uniform is authenticated by Steiner Sports who sells the Knicks game used uniforms. All items have hand written authentication letters and corresponding authentication labels. This uniform was worn on December 28th, 2011 against the Golden State Warriors in Jeremy Lin's first ever game with the New York Knicks. He did play in this game.

Included: Jersey (XL2), Shorts (XL +2), Warm Up Pants, Warm Up Shirt

The tags are hand written and labeled as issued by the New York Knicks to Lin. All items are in the same exact condition as they were from Lin. This picture is featured by many media outlets. This is the single most unique piece of Jeremy Lin memorabilia in the world.
The 23-year-old Taiwanese-American guard, who went undrafted out of Harvard, has become a global sensation after moving into New York's starting lineup. The Knicks have won seven straight games and Lin's scoring production in his first five starts was the highest of any NBA player since the NBA/ABA merger.
The uniform's price tag is, obviously, extraordinary for someone who was a virtual unknown as recently as two weeks ago. Consider that Lin has recently spent time in the National Basketball Development League, where players often
reportedly earn less than $40,000
in annual salary.
The jersey Lin worn while
scoring a career-high 38 points
against the Los Angeles
Lakers
at Madison Square Garden last week is also being
auctioned for charity
.
Lin is averaging 12.7 points, 5.1 assists, 2.4 rebounds and shooting 49.7 percent for the Knicks this season.