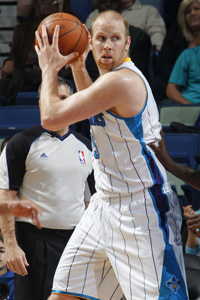 The Heat reportedly have interest in Chris Kaman if he's bought out from the Hornets.
(Getty Images)
By Matt Moore
The Heat are not through trying to build their roster. FoxSports.com reports that the Heat are attempting to acquire
Chris Kaman
, should he be bought out of his contract after the trade deadline.
Heat officials, including president Pat Riley, have been calling people who know Kaman to ask about him, a source told FOXSports.com on Wednesday.

The thinking is the Heat's best effort to get a center would be to sign Kaman — if his contract is bought out by New Orleans after the March 15 trade deadline.
via
Miami Heat Chris Kaman Minnesota
Timberwolves
Pau Gasol
Los Angeles
Lakers
trade 021512 - NBA News | FOX Sports on MSN.
A trade isn't feasible due to the very little flexibility the Heat have on their roster to make salaries match. Kaman was put on the block in January and even allowed to stay away from the team while a trade was negotiated, but a deal wasn't found. After a week the Hornets actually publicly announced they were taking him off the block and he rejoined the team. So the odds of another team swooping in to snatch him up are very low.
The Heat would be a great fit for Kaman, allowing him to compete for a title and giving the Heat a legitimate center down low. In stunning news,
Eddy Curry
has failed to make an impact and the Heat face the same problem they had last season with size down low.
Joel Anthony
is a skilled defender and has made great strides offensively this season but still lacks the bulk to make an impact down low. If Kaman were to agree to a deal for the veteran minimum, which doesn't seem likely, it would mean the Heat would start four current or former All-Stars. Which is just kind of ridiculous.
It's no guarantee the Hornets will buy Kaman out, nor is it likely he'll lean towards the Heat if bought out. It's entirely another team, like the Boston
Celtics
could make a similar offer, or a team with more cap room could make an offer. Kaman would have to agree to a buyout in the first place, and there's been no indication either way of Kaman's feelings on that front.
It's a scary thought for the rest of the league that the Heat could wind up with Kaman, and you'd have to think that puts separation between them and the rest of the league in terms of who is the best team in the league by shoring up their biggest weakness.