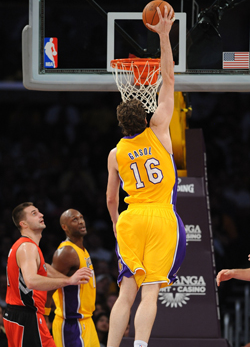 Gasol's name is popping up in trade rumors again.
(Getty Images)
Posted by Royce Young


The
Lakers
already tried to trade
Pau Gasol
once this season. So they aren't completely married to their Spanish power forward. The Lakers appear to be a team shopping at the trade deadline, especially with that nice trade exception they got in the
Lamar Odom
deal.
But that doesn't mean the Lakers are just going to do
anything
. So are ready for a trade rumor that almost certainly will not happen, but is pretty fun to think about anyway?
Via FoxSports.com
:
In other news involving NBA big men, a source said Wednesday that Minnesota continues to pursue a possible trade for Lakers forward Pau Gasol, dangling rookie Derrick Williams, who is from the Los Angeles area, and draft choices.

The only players considered untouchable by the Timberwolves, who are seeking to add a veteran by the trade deadline, are Kevin Love and Ricky Rubio. The Timberwolves believe it could be enticing for Gasol to play on the same team as fellow Spaniard Rubio.
The two biggest reasons this isn't happening:
1) No way
Kobe Bryant
would at all be cool with this, considering he's not exactly of the mind for the Lakers to start a rebuilding youth movement as he chases a sixth ring. If you want to upset Kobe, trade Gasol for someone not named Dwight.
2) Actually, that first reason is probably enough.
Then again, maybe there's one reason it would. Maybe the Lakers have visions of using Williams in a package with
Andrew Bynum
to have a go at
Dwight Howard
. Maybe the Gasol/Bynum thing isn't what Orlando is looking for and instead wants to get younger, get some picks and get some talent back. That, I can buy.
From the Minnesota perspective, I'm actually a little curious as to why the Wolves would want to go down that path. Gasol is more of a 4 than a 5 and they already have Kevin Love playing power forward. And
Nikola Pekovic
is coming on strong right now at center. It's understandable if they see Williams not fitting in anywhere, but Gasol's not exactly a major need player for them either.
Either way, there's a month until the trade deadline and I'm pretty sure this isn't the last trade rumor you're going to hear Gasol's name get dropped in. The Lakers want, and probably need, to make a deal. And Gasol's a pretty big piece to dangle out there.